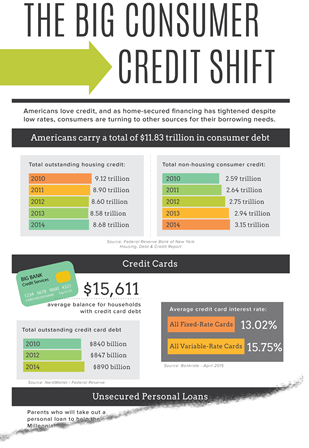 The tides are shifting on consumer credit in the United States. As illustrated in the infographic, residential housing debt has decreased while non-housing consumer borrowing is on the rise.
Total credit card balances have grown steadily the past four years and total unsecured personal loans from nonbank lenders such as loanDepot have grown exponentially from $1.2 billion in 2012 to $8.8 billion in 2014 – with even more growth expected this year and beyond.
Student and auto loan debt have also grown, with student loans totaling $1.325 trillion in 2014, up from $912.4 billion in 2010.
Despite historically low mortgage rates, housing credit has become much harder to get for many Americans – a major factor in shift in demand toward non-mortgage credit. Of course, total housing debt is still more than double non-housing consumer credit total, but that's to be expected as homes cost significantly more than any other items we finance.
A loanDepot licensed loan officer can help with these and any other lending questions. Call (888) 983-3240 to speak with one today.
Click image to open graphic
RELATED TOPICS
5 ways to benefit from a home loan refinance
9 helpful ways to use an unsecured personal loan
The Bank of Mom & Dad is alive and growing
7 financial mistakes to avoid in your 20s

Back to Knowledge Cafe