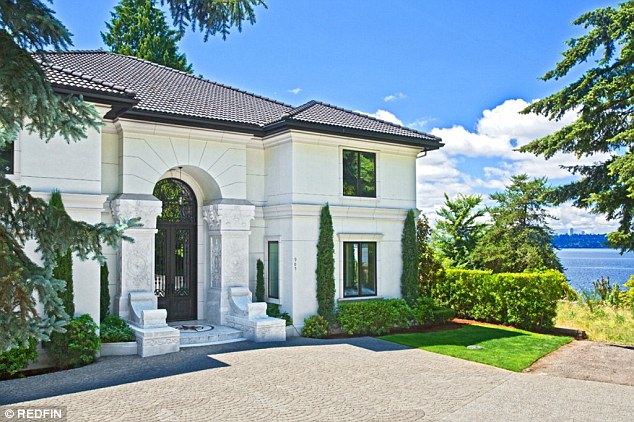 It's football time, baby. That's right, the 2015-16 NFL season is in full swing. Fans are once again flocking to see their favorite players toss the pigskin, and loanDepot, LLC has highlights of the homes and mortgages of ESPN's Top 10 NFL starting quarterbacks. From Russell Wilson's new $6.7 million lakefront estate to Tony Romo's relatively modest suburban mansion, these guys know how to live.
Young gun Andrew Luck's plush townhouse, walking distance from the Colts' stadium, is a commuter's dream come true, while veteran Tom Brady's sprawling estate is fit for a football king and his supermodel queen.
Have a look for yourself and maybe you'll even be inspired for a little upgrade of your own.
Aaron Rodgers – Green Bay Packers: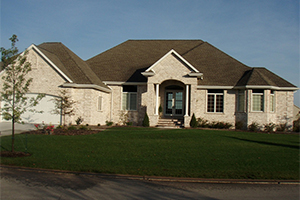 When he's playing, the two-time – and currently reigning – NFL MVP Aaron Rodgers of the Green Bay Packers lives in an unassuming, four-bedroom, two-and-one-half-bathroom waterfront home in the small town of Suamico, Wisc., which he purchased in 2005 for $442,500.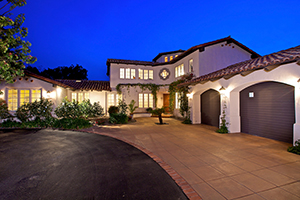 During the offseason, however, the 10-year veteran of the Packers lives in a four-bedroom, five-bathroom 5,771-square-foot villa in a wealthy San Diego, Calif., enclave known as Rancho Santa Fe. Rodgers bought the home on one acre of land complete with guest house and outdoor entertainment area in 2009 for $2.05 million. The grounds also include a volleyball court, putting green and batting cage. Documents show that Rodgers took out a conventional, 30-year mortgage for $1 million to buy the home.
Andrew Luck – Indianapolis Colts: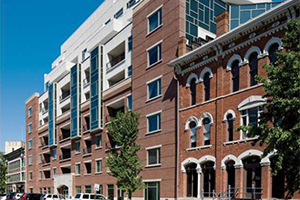 Andrew Luck, a No. 1 draft pick in 2012 from Stanford, lives in a $2.299 million luxury townhouse that's walking distance of the Indianapolis Colts' Lucas Oil Stadium. The 5,500-square-foot residence features a stylish and contemporary design, chef's kitchen and panoramic city views. With 3 bedrooms and three-and-one-half bathrooms, the luxury pad offers everything a freshman NFL player could want.
Russell Wilson – Seattle Seahawks: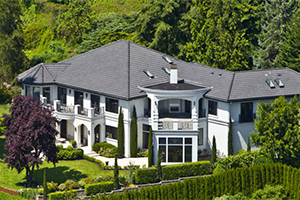 The Super Bowl-winning quarterback of the Seattle Seahawks had been renting while he ironed out his new $87 million contract extension, which was signed last month. But before the ink could dry he bought this $6.7 million lakefront estate in Bellevue, Wash., Wilson said his agent, Mark Rodgers, wouldn't let him buy a home until the contract was finalized. He bought the 10,740-square-foot, six-bedroom, seven-bathroom mansion with a $4.33 million, 30-year adjustable-rate home loan. That means his monthly mortgage payment is approximately $20,000. The home comes complete with its own private waterfront and dock, giant spiral staircases, chandeliers, movie theater, and a 1,200-bottle wine cellar.
Peyton Manning – Denver Broncos: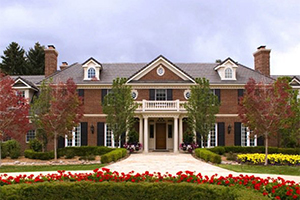 Denver Broncos quarterback Peyton Manning holds the record for the number of NFL MVP awards he's won; his total currently stands at five. The iron-man quarterback has settled into this $4.575 million dollar mansion in the upscale Cherry Hills Village 20 minutes outside of Denver. The six-bedroom, 10-bathroom 16,464-square-foot Georgian-style colonial sits on 3.37 acres of well-manicured greenery. The home offers all the amenities you'd expect from in a luxury home, including gourmet kitchen, home theater, wet bar, gym and even a dog room with an indoor/outdoor heated kennel. No mortgage records were found.
Drew Brees – New Orleans Saints: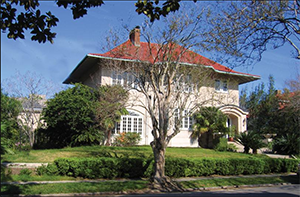 Veteran New Orleans Saints quarterback Drew Brees – who is starting his 14th season in the league – purchased this four-bedroom, 4,944-square-foot home in New Orleans, Louisiana shortly after signing a six-year, $60 million contract with the Saints. Brees bought the home with his wife Brittany in 2006 for $1.575 million. A large den with wrap around floor-to-ceiling windows and doors that lead to a swimming pool as well as a wine cellar are the home's notable features. No mortgage records were found.
Ben Roethlisberger – Pittsburgh Steelers: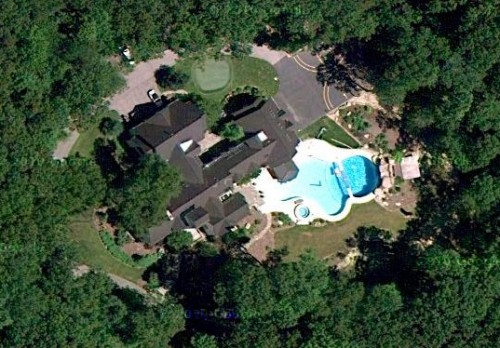 Two-time Super Bowl champ and Pittsburgh Steelers quarterback 'Big Ben' Roethlisberger lives with his dogs in this six-bedroom, eight bathroom, 13,792-square-foot mansion surrounded by 4.81 wooded acres in the wealthy Pittsburgh suburb of Gisbonia. Roethlisberger bought the home in 2006 for $2.22 million with a $1.776 million adjustable-rate mortgage. The Pittsburg quarterback even has his jersey number (No. 7) painted on the bottom of his swimming pool.
Matt Ryan – Atlanta Falcons: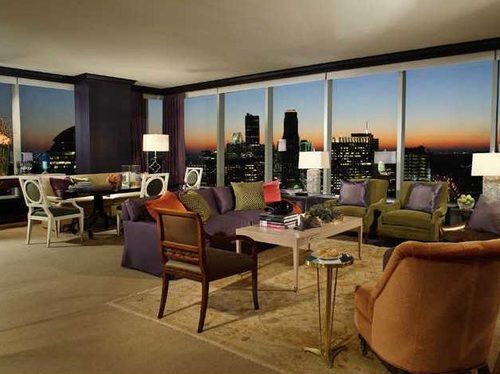 Matt Ryan, the Atlanta Falcons quarterback, traded in his suburban home on a world-famous golf course for this $2.4 million luxury condo in Atlanta. The three -bedroom, three-and-one-half-bathroom residence offers sweeping views of Atlanta and includes in-room dining, chauffeured car service, spa services, two levels of amenities; saltwater pool, cocktail lounge with bartender three nights a week and rooftop deck with fireplace.
Cam Newton – Carolina Panthers: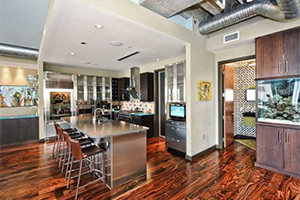 Shortly after joining the Carolina Panthers in 2011, quarterback Cam Newton bought an upscale $1.6 million condo in downtown Charlotte, NC, in the same high-security high-rise that Charlotte Bobcats owner and basketball legend Michael Jordan calls home. The three-bedroom, three bathroom, 3,285-square-foot home boasts a chef's kitchen, large formal dining room and sweeping views of Charlotte's financial district. Among the benefits of living in the seven-unit building is a membership to the Charlotte Athletic Club.
Tony Romo – Dallas Cowboys: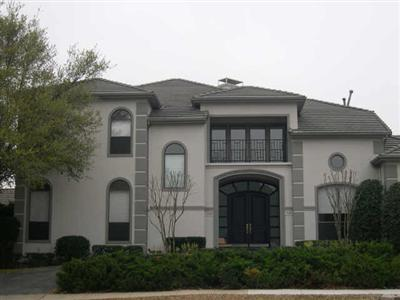 Dallas Cowboys quarterback and four-time pro bowler Tony Romo settled down into this modest four-bedroom, four-and-a -half-bathroom 5,551-square-foot home outside Dallas in 2008. He paid $670,000 for the suburban home with marble floors, fully landscaped backyard, pool and spa and outdoor entertainment area. No mortgage records were found for the home. Rumor has it that Romo and his wife Candice are building a new home in the lush, secluded Dallas neighborhood of Glen Abbey.
Tom Brady – New England Patriots: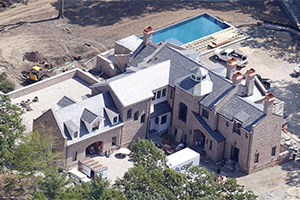 After selling his sprawling California Manse to Dr. Dre last year for $40 million, New England Patriots quarterback Tom Brady and his supermodel wife Gisele Bundchen are building a 14,317-square-foot European-inspired estate in high-fallutin' Boston suburb of Chestnut Hill. The power couple bought the 5.2-acre property in 2013 for $7 million and began renovating the property last year. With the notorious 'Deflate-Gate' scandal still fresh in fans' minds, it's no wonder the reigning Super Bowl championship quarterback needs to build himself a relaxing, secluded retreat. Brady and Bundchen also have an upscale New York City apartment that they rent out for $40,000 a month.
A loanDepot licensed loan officer can help with these and any other lending questions. Call (888) 983-3240 to speak with one today.
RELATED TOPICS
Adam Levine's $3.4 million mortgage and other 2015 VMA star home facts
loanDepot looks at the homes and mortgages of the 2016 U.S. presidential candidates
How to get the most ROI for your home-improvement dollars
5 ways to benefit from a home loan refinance
How to save for a down payment on a home