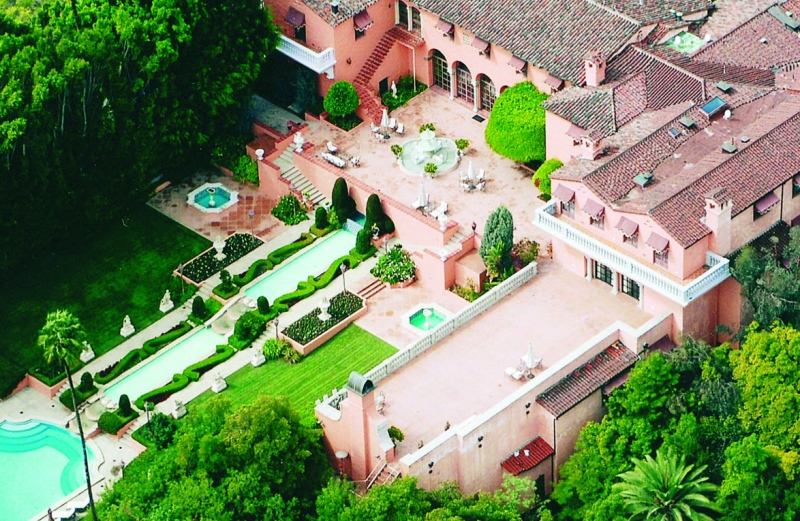 Location. Location. Location. What's true for real estate can also be said for the silver screen and its importance cannot be downplayed. Where a film is set can have an immediate and everlasting impact on the viewer as compelling as the story itself. It's not uncommon for a location to become as integral to the plot as a primary character. The setting provides an anchor for the action while conveying mood, era, and a million tiny visual and atmospheric clues about the world in which the story takes place.
loanDepot takes a look at the homes and mortgages of six homes central to Oscar-winning films. Our journey takes us from New Orleans to the streets of San Francisco to an iconic estate in Beverly Hills, with stops in Atlanta, Manhattan and Perryopolis, Penn. along the way. With some of these homes, only the exteriors were used, but in a few, the actual home provided the both interiors and exteriors throughout the film.
"THE CURIOUS CASE OF BENJAMIN BUTTON"
New Orleans, Louisiana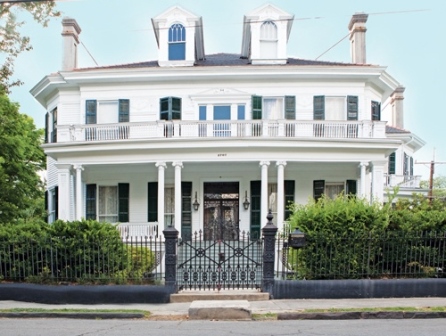 According The Times-Picayune, the house on Coliseum Street in New Orleans was director David Fincher's first and only choice for the 2008's "The Curious Case of Benjamin Button" that received 13 Academy Award nominations and won three: Best Art Direction, Best Makeup and Best Visual Effects.

"We were told that the house was a character in the movie," said William T. Nolan II, the son of the owner at the time. "And the house really is a member of the family. We talk about it like it's one of us."

Though the house was sold in 2010, it had previously been in the Nolan family for three generations when it was used for the film. It took quite a bit of persuading to get Mary Nell Porter Nolan, the owner at the time, to let the crew use it. But Fincher was convinced it was the house he wanted, so his emissaries kept working to persuade Mary Nolan that it would be great for New Orleans, as they were scouting not too long after Hurricane Katrina. Unfortunately, Mary passed away before the full filming had gotten underway in the house she owned for 60 years. Every part of the house was used for filming and the seven upstairs bedrooms were recreated on a Hollywood soundstage for pickup shots.

The 7,800-square-foot house has six bedrooms, a music room, library, and reception hall. It was built in 1832. It was announced that it was going up for auction in 2009 but no sale is listed until August 9, 2011. It was sold to its current owners on Feb. 23, 2010 for a price of $1,490,000; the only mortgage information states that it was a private party lender.

"MRS. DOUBTFIRE"
San Francisco, California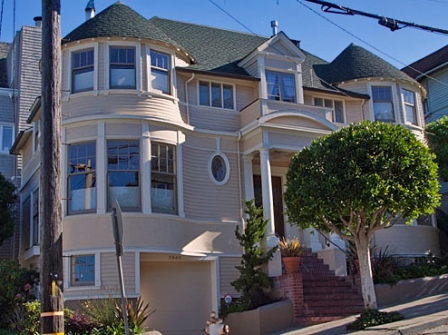 "Mrs. Doubtfire," 2003, won an Oscar for Best Makeup. The seven-bedroom, two-bathroom Victorian home where most of the film takes place is on Steiner Street in San Francisco. Though only the exteriors were used for filming, the house, built in 1906, has become a Bay Area landmark. The porch became a makeshift shrine after the death of Robin Williams in August 2014. The home also made headlines last year when an alleged arsonist attempted to set fire to it in January 2015.
The current owner purchased the 2,578-square-foot house in April 2000 for $1,395,000. Redfin estimates its current value at $4,574,934. An estimate from Zillow goes as high as $6,450,031. There is no mortgage listed on the property.

"DRIVING MISS DAISY"
Atlanta, Georgia
This 1989 film, "Driving Miss Daisy," is based on the play of the same name. Set over a period of 25 years in Atlanta, Ga., it was nominated for nine Academy Awards and it won four: Best Picture, Best Actress, Best Makeup and Best Adapted Screenplay.
Because of its low budget, the Atlanta house was used for both interiors and exteriors. Built in 1922, the brick home has seven bedrooms and six and one-half baths in 6,140 square feet of living area. There is also a two-bedroom, one-bath guest room with kitchen and living room.
The home last sold in 2001 for $1,450,000. Public records show a 30-year adjustable-rate mortgage at 7.12 percent.

"BREAKFAST AT TIFFANY'S"
New York City, New York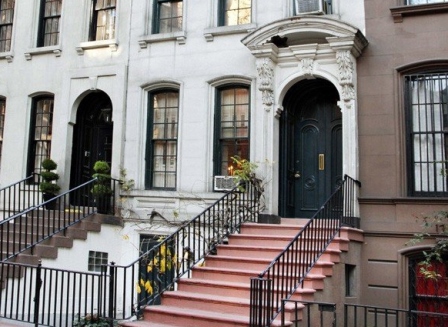 This now-classic 1961 film is quintessential Audrey Hepburn. It was nominated for five Academy Awards and it won two, both for Henry Mancini, with Best Score of a Dramatic or Comedy Picture and Best Original Song, "Moon River." In those days, musical films had their own category so scores for non-musical films did not compete against them, which explains how "West Side Story" and "Breakfast at Tiffany's" won for score in the same year.
The exteriors for Holly Golightly's brownstone were filmed on 71st Street in Manhattan and, according to the owner selling it in 2011, the townhouse was used for many of the interiors as well. It most recently sold in July 2015 for $7,400,000. It previously sold in April 2012 for $5,975,000.
With 2,880 square feet of living space, the land use now shows it's a duplex, converted from one-family space to two on the same lot. Public records show now current mortgage information.
"SILENCE OF THE LAMBS"
Perryopolis, Pennsylvania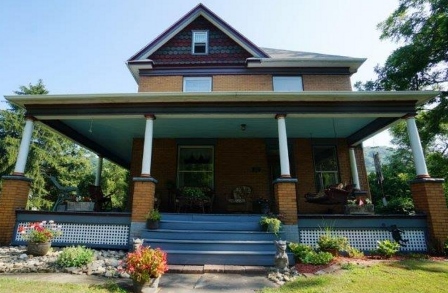 Good evening, Clarice … this house has a lovely true story but the grisly fictitious events that were filmed there seem to have cast a long shadow. The couple who owns the home where a portion of 1991's "Silence of the Lambs" was shot, has lived there since 1976 and they were even married in the foyer. Unfortunately, it's been on the market since last August and they have yet to find a serious buyer. The price has recently been dropped from $300,000 to $249,000, which may still be too high for the rural area of Pennsylvania where it's located.

The film was nominated for seven Academy Awards and won five, sweeping all the major categories. It won for Best Picture, Best Director, Best Actor, Best Actress and Best Adapted Screenplay.
The home was used for the exteriors and some interiors of serial killer Buffalo Bill's house. The three-story Victorian retains much of the period charm of a 106-year-old home with many of its original features. It is 2,334 square feet with four bedrooms and one bath. A 10-year mortgage in the amount of $66,000 was recorded in April 2014.
It took a production crew about six weeks to prep the house for filming and three days to shoot.
"THE GODFATHER"
Beverly Hills, California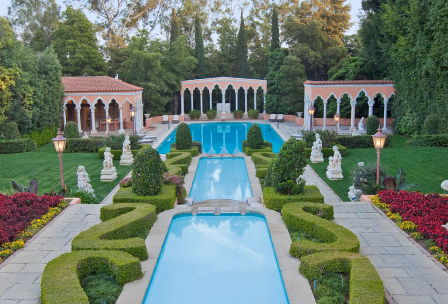 This storied estate is legendary for reasons other than it provided the setting for one of the most iconic scenes in cinematic history in "The Godfather." The 1972 film was nominated for nine Academy Awards and won three, including Best Picture, Best Actor and Best Adapted Screenplay.
Known as the Beverly House Estate, the Beverly Hills compound was built in 1926, in a distinctive Spanish-Italian style with coral exteriors. It is where William Randolph Hearst lived out the last years of his life with Marion Davies and where JFK and Jackie Kennedy honeymooned. Other films shot there include "The Bodyguard."
The six-acre estate was listed for sale in April 2014 for $135 million (or you could rent it for $600,000 a month). However, a sale recorded at the home's address in December 2015 is for a much smaller house than previous media reports indicated. A $40 million conventional mortgage was recorded for a term of three years on a 20,570-square-foot home with nine bedrooms, 15 baths, three fireplaces and a 10-car garage. A $19 million mortgage modification agreement was also filed on the same day.
Call
(888) 983-3240
for more information.

The data and information provided in this post is a compilation of previously reported public information by public records providers and reputable news media outlets. Investigative research was conducted using public records, subscription-based records and reputable media services. Images are linked to original sources; main image comes from beverlyhouseestate.com.
Published February 22, 2016
RELATED TOPICS
50 fun facts about Super Bowl 50
5 homes you can buy with the $1.5 billion Powerball jackpot
Housing spotlight: TV homes away from home
Homes and mortgages of the top 10 NFL quarterbacks
Adam Levine's $3.4 million mortgage and other 2015 VMA star home facts