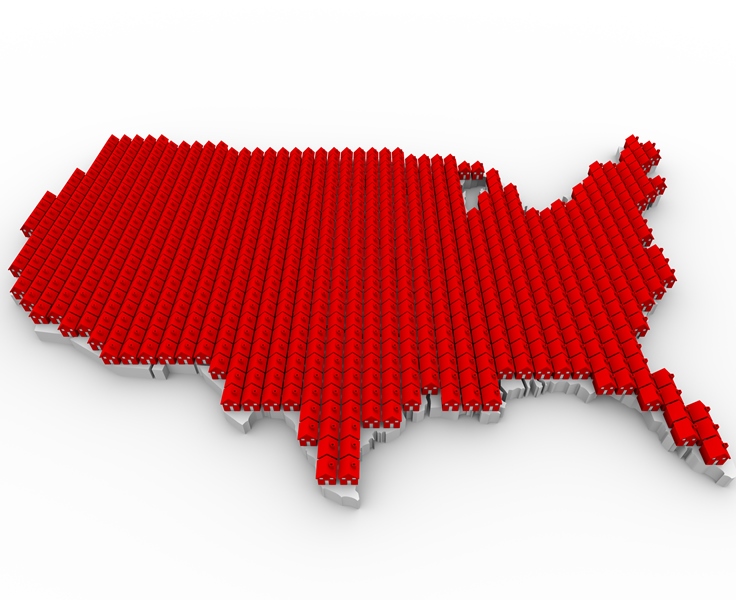 The U.S. housing market has made a strong recovery over the last 12 months, with three more metro areas and two more states returning to 'stable' range, according to a recent report from Freddie Mac.

Thirty-two U.S. states and the District of Columbia now have Freddie Mac Multi-Indicator Market Index (MiMi) values in the stable range, up from 21 states this same time last year. The housing markets in the states of Kansas and New York and those in the cities of New York, N.Y., Minneapolis, Minn. and Palm Bay, Fla. entered the outer range of stable housing activity in the third quarter of 2015.

The national MiMi index value stands at 81.9, indicating a U.S. housing market that is on its outer range of stable housing. On a year-over-year basis, the national value has improved 6.31 percent. Since its all-time low in October 2010, the national value has rebounded 38 percent, but remains significantly off from its high of 121.7.

Fresno, Calif. (101.9); Austin, Texas (96.5); Honolulu, Hawaii (95.5); Salt Lake City, Utah (95.2); and Los Angeles (95) make up the top 5 most stable housing markets in the latest index, released Dec. 30.

"The strong annual change of 6.31 percent is the best improvement we've seen in the MiMi on a year-over-year basis since July 2014," said Freddie Mac Deputy Chief Economist Len Kiefer. "While strong home purchase applications and rising home values in some markets are contributing to this improvement, its largely more of a reflection of mortgage delinquencies continuing to decline at a steady pace, especially in those hardest hit markets, and a better employment picture overall.

"States in the West are still seeing some of the strongest housing activity and among those, Utah really stands out," Kiefer added. "Not only do many of the state's local housing markets such as Salt Lake City, Provo and Ogden have strong buyer demand but they're also still largely affordable for the typical family looking for a median-priced home. This is due to the state's robust economy and better than average job creation."

MiMi monitors and measures the stability of the nation's housing market, as well as the housing markets of all 50 states, the District of Columbia, and the top 100 metro markets. MiMi combines proprietary Freddie Mac data with current local market data to assess where each single-family housing market is relative to its own long-term stable range. It looks at home purchase applications, payment-to-income ratios (changes in home purchasing power based on house prices, mortgage rates and household income), proportion of on-time mortgage payments in each market, and the local employment picture.

Call (888) 983-3240 for more information.

RELATED TOPICS
Resolve to get your financial house in order this year
The 2015 mortgage industry year in review
What dreams can you achieve in the coming year?
Mortgage applications surge on Fed rate hike
What does the Fed interest rate increase mean?