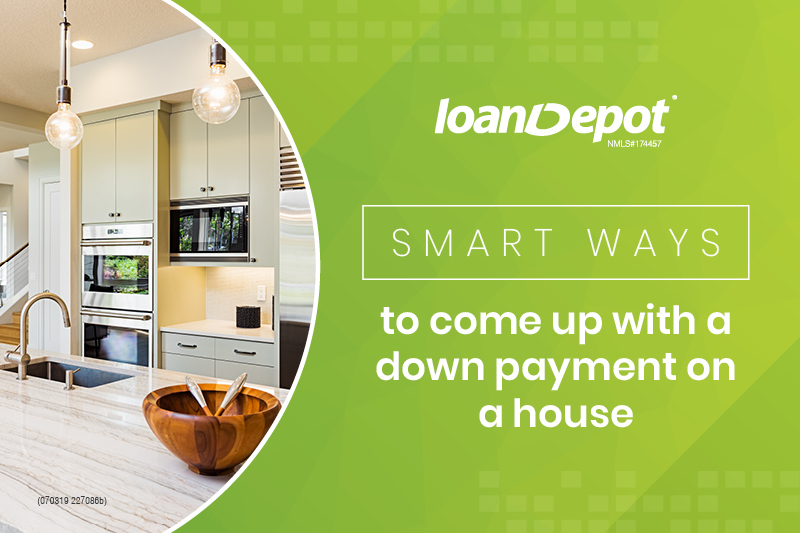 The dream of owning a home is alive and well among young Americans today. In fact, according to a study published by Apartment List, 89% of millennials list owning a home as a top priority but list saving for a down payment as the primary financial hurdle.
While most recognize how important it is to build a strong credit profile and pay down debt, many do not know how much they need to save or what their options are. That's where loanDepot's licensed loan consultants come in with expert guidance.
If you are an aspiring homeowner looking to purchase your first home, here are some ways to help you compile your down payment:
✔ Create a Savings Plan: While that seems like an obvious starting point, sitting down and creating an actual plan is a big step toward getting you to your goal. How much you need to save can vary; there are loans that require as little as 3.5 percent down, and others that offer down payment assistance or remove closing costs. That's where talking to a professional will be handy. But in the meantime, take a good hard look at your spending habits and see where you can carve some regular savings into your monthly budget. Note that saving as little as $50/week can start to add up over time.
✔ Simplify Your Life: When you look at your budget, look for areas where you may not really need to be spending. For example, are you making more than one car payment? Consider eliminating one car and carpooling for a bit. Or, are you spending a lot of money in home food delivery or eating out? Take the cookbook challenge and start making all of your meals (including packing your lunch) at home. Have an expensive gym membership? Consider the amazing (and free) outdoor gym. You don't have to eliminate everything you love, but some simple cuts can make a big difference over time.
✔Join the Gig Economy: Taking on a second job or figuring out how to monetize your hobbies can be one of the quickest and easiest ways to generate some extra cash. Whether it's driving Uber on the weekend or selling homemade goods on Etsy, finding ways to make money off your hobbies can make moonlighting feel a lot less like a second job.
✔ Just say No: Sometimes, you just need to say no. Maybe that's "no" to a night on the town. Or to a new pair of gorgeous but very expensive shoes. Or a weekend trip with the girls. Watching your expenses and cutting back on unnecessary spending can save you thousands. Now, we're not just talking about skipping Starbucks one or two days a week, it's the big expenses, like updating your wardrobe or buying a new TV or audio equipment that can wait until you've moved into your new home.
Make saving fun by challenging yourself to actively resist tempting expenses. For example, try:
Cooking at home every day for a month instead of eating out

Not buying any new clothes for 60 days

Staying off shopping websites

Unsubscribing from all retail newsletters offering sales you can't resist

Waiting 24 hours before buying anything more expensive than a certain dollar amount
✔ Out of sight, out of mind: Once you know how much you can afford to sock away each month, have that amount automatically deducted from your paycheck and deposited into a separate account. Make access to that account as difficult as possible, such as setting it up at a different bank or not ordering checks or a debit card. That can help you avoid touching the money ahead of your goal.
✔ Save your windfalls: Any extra money should automatically go towards savings. This includes tax refunds, inheritances or even year-end bonuses. The urge to splurge can be great, But setting aside unexpected funds will help you reach your savings goal quicker and maybe even exceed it.
Buying a home is one of the biggest investments you'll ever make, so it's important to get good advice from a trusted advisor. A loanDepot licensed loan consultant can help you determine how much you may need to save and provide guidance on your down payment options, and can also answer any other lending questions you may have.