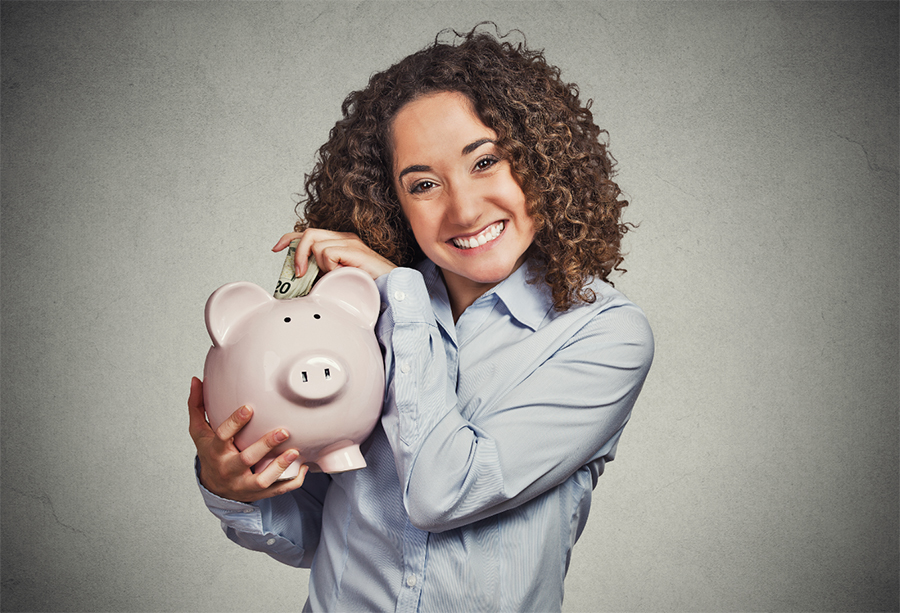 The American Dream of homeownership is still very much alive among young people today. And with falling interest rates, the biggest pay increases since 2009, and lending-regulation changes at the federal level, the dream might not be too far out of reach.
If you had the down payment, that is.
A loanDepot survey of 1,000 millennials found that 35 percent of them plan to buy a home by 2020 and that they've already begun taking the necessary steps to plan for that transaction.
While it's important to get your credit profile in order and pay down debt, saving for a down payment and loan-closing fees is one of the most important steps on the path to homeownership. But no matter what, saving money, especially for something substantial, requires real life changes. And it's not as simple as cutting back on a Starbucks addiction.
✔ Decide how much you need: It's impossible to create a savings plan if you don't set a goal. Whether your goal is to put 20 percent down in order to avoid mortgage insurance or go for a low-down-payment FHA-backed loan, you'll need a plan. Buyers who put 20 percent or more down have a much greater chance of qualifying for a loan and will save thousands of dollars in interest and mortgage insurance premiums over the life of the loan. But many programs exist to help buyers who need to put less than 20 percent down. Also, don't forget those closing costs. The buyer's portion can be anywhere between 1 percent and 2 percent of the purchase price.
✔ Sell something: Your down payment savings account will grow a lot faster if you sell some of your more valuable possessions. Cutting down on the major expense of owning a second car, for example, can be a boon to progress. A couple with two monthly car payments should consider downgrading to a used car they can pay for in full or sharing one car. You can also sell stock or other investments with limited tax burdens and penalties if you're using the money to buy a home, according to tax professionals.
✔ Get a second job: Taking on a second job or figuring out how to monetize your hobbies can be one of the quickest and easiest ways to save money. While a second job may not be ideal for the time it consumes, that additional paycheck is a strong way to pad your savings account. Likewise, finding ways to make money off your hobbies can make moonlighting a little more palatable. Whether it's waiting tables on the weekend or opening an online shop to sell your home-made goods, it is one alternative to cutting back on lifestyle choices.
✔ Cutting back on lifestyle choices: Sometime you have to say no. No to that night on the town. No to that new pair of shoes. Or no to that spontaneous weekend trip to Las Vegas. Watching your spending closely and cutting back on superfluous spending can save you thousands. And we're not just talking about skipping Starbucks one or two days a week. Big expenses, such as eating out and updating your wardrobe could wait until after you've moved into your new home.
✔ Downsize your housing: If buying a home is your number one priority, consider downsizing your current housing situation. Housing is typically your single largest expense, and finding ways to control those costs can be financially empowering. It's worthwhile to consider renting out that spare bedroom or, if you can stomach it, moving back home with mom and dad for a few years, which could really pay off.
✔ Out of sight, out of mind: Once you know how much you can afford to sock away each month, have that amount automatically deducted from your paycheck and deposited into a separate account. Make access to that account inconvenient, such as setting it up at a different bank or not ordering checks or a debit card. That can help you avoid touching the money early.
✔ Save your windfalls: Tax returns, inheritances or even year-end bonuses should be put directly to savings. The urge to splurge can be great, but it takes discipline to be a homeowner. Setting aside unexpected funds will help you reach your savings goal quicker and maybe even exceed it.
When it comes to buying a home, one of the biggest investments you'll ever make, it's important not to rush things. Save to a point that you're comfortable and only then start the home buying experience.
A loanDepot licensed loan officer can help with these and any other lending questions. Call (888) 983-3240 to speak with one today.
Published Feb. 10, 2015
RELATED STORIES
First-time homebuyer? Get your credit profile in order
Survey: Millennials want to buy homes
Financial resolutions that will change your life
Best free personal finance mobile apps
Seven common reasons lenders deny loans