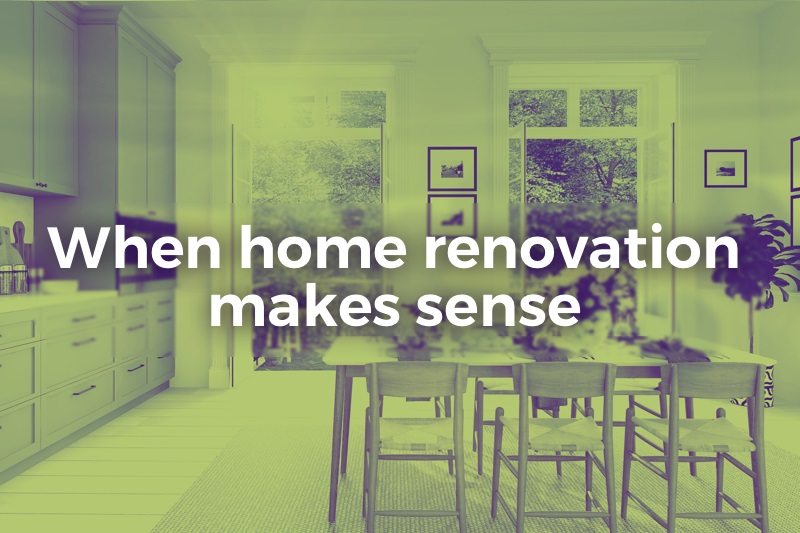 (Article updated on April 4, 2019)
Home renovation is a hot topic for most American homeowners. In fact, according to a recent Trulia survey, nearly 90 percent of all American homeowners will plan a renovation project within the next two years. This trend comes as no surprise considering a solid job market and the fact that many homeowners are sitting on vast untapped equity. Additionally, a continued lack of housing inventory and high home prices are two more reasons that existing homeowners are choosing to renovate vs. relocate. Looking for reasons to renovate? Check out our top five:
1. Staying put could save you money
There are many compelling reasons to move. Maybe you're relocating for work, your family outgrew your existing space, or you're looking for a change of scenery. If none of these reasons impact you, consider staying put because moving is not cheap. According to the American Moving and Storage Association, the cost of moving interstate averages approximately $4,300 per household. Add to that the cost to sell your home and buy a new one. If you like where you live, consider reconfiguring or redecorating your existing home and using the money you would have spent to relocate to upgrade appliances, put in a new deck or update your kitchen.
2. No more "functional obsolescence"
Remember when avocado kitchen applicances and popcorn ceilings were a thing? Some fads are better left in the past. Architectural and decorating styles change significantly over time. We've all cringed at the sight of an outdated room in an otherwise beautiful home or window and flooring treatments that age a room beyond its years. What worked when a home was first built might not achieve the desired aesthetic of today's homebuyer. This concept isn't just valid for décor. It also applies to the actual layout and construction of the house.
Take a minute to think about how you can improve the functionality of your home. If you don't need a walk-in closet for a guest room, perhaps that space would be more efficiently used as an extra bathroom. If you've spent years hauling laundry to the basement, maybe adding a laundry room to the main floor is the best improvement you can make for your needs. Or, if you want to create a greater sense of space, consider opening up the living room with sliding glass doors and adding a deck to create an indoor-outdoor living area.
3. Maintain the basics
Making your home and yard more energy and water efficient can have immediate and long-term savings. Maintaining the overall repair of the house, including major items such as the roof, electrical and plumbing, is also a good investment as it can save on bills now and help prevent costly repairs in the future.
4. Tap into equity
With interest rates hitting near historic lows during the past few years, millions of owners have locked in rates they don't want to give up. At the same time, home values in many areas have gone up, and the result is a nest egg of increased equity.
According to TransUnion Senior Vice President, Joe Mellman, "increases in home prices are resulting in record levels of home equity, which provide homeowners more opportunities to tap into low APR home equity products."
These trends allow owners to obtain cash-out home refinances or home equity lines of credit, financing that can be tapped to fund home improvements. If you aren't planning to move anytime soon, you can use this capital to make your home the best it can be.
5. Happiness counts
Probably the best reason to make repairs and improvements is to create a home you love. If new landscaping, a dream bathroom or a spa is going to enhance your lifestyle, then why not? A home should be more than a place to avoid the rain – it should provide comfort and enjoyment. For many homeowners, upgrades and renovations are the fastest paths to better living.
Call today to learn how a cashout refi or a renovation loan can help you create your dream space.
Originally Published July 17, 2015