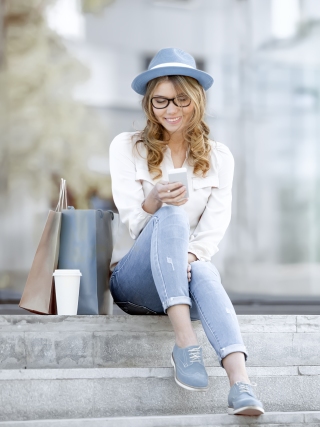 There are a slew of options when it comes to managing your finances in the digital age. The days of going to a bank and physically cashing a check are quickly fading. In fact, when is the last time you even wrote a check?
Determining which mobile apps are better or safer can be a daunting task. Financial security is a top concern. How will your personal information be used? Who will have access to it? Is it safe from hackers?
With 80 percent of households with Internet access paying at least one bill electronically, according to a Consumer Billing and Payment Trends survey, those questions become even more important.
But knowing exactly how much money you have in the bank and the balances of all your credit cards at a glance is one of the best ways to prevent ID theft and credit card fraud, according to consumer protection experts.
The following 10 free mobile apps have a reputation for safety and security, and they lead the pack when it comes to customer satisfaction.
Mint – Mint is one of the most popular mobile financial apps available today. Providing users with a thumbnail view of their entire financial portfolio and net worth, Mint uses real time data from your financial institutions to paint a picture of your financial health. It categorizes transactions on your checking, savings and credit accounts and will even alert you when you've gone over budget.
Manilla – Similar to Mint, Manilla offers many financial management tools but stands out with its unique, eye-pleasing layout.
PayPal – A longtime leader in online financial security, PayPal offers users the ability to pay anyone, anywhere in a few short steps. Whether it's transferring money to your son or daughter away at college or shopping online, the easy-to-use app is a must have.
Apple Pay – One of the newest financial management products on the market, Apple Pay gives users access to their money without carrying a wallet. In addition to paying for things at stores and restaurants, Apple Pay gives you a synopsis of account balances and recent purchases.
Bill Guard – Bill Guard allows users to comb over their bank and credit card statements and easily report any unwanted or fraudulent charges. It flags reoccurring charges you may have forgotten about or were not aware of, specifically "gray charges." Gray charges are fees consumers pay via credit card or debit card for unwanted subscription services that are automatically renewed or converted from a free trial to a paid subscription.
Check – Never miss another bill again with Check. Not only does the app remind you when a bill due, it allows you to pay it directly from the app. Pay any bill, from all major credit card and utility companies to small businesses and sole proprietors.
LearnVest – Personal financial educator LearnVest offers a comprehensive mobile app that allows you to keep track of all your investments and other financial information. LearnVest is similar to Mint in many aspects, except that it's designed for a single user while Mint allows for multiple users such as a husband and wife.
Wally – Wally's greatest feature is its ability to allow users to scan receipts and then pull that information into a budget.
Debt Tracker – Creating a debt payoff plan is DebtTracker's biggest asset. The app allows users to input mortgage, auto, personal and credit card debt and then create and maintain a payoff plan.
Budget – With a clean, user-friendly interface, Budget lets the user create various budgets with multiple categories, making keeping track of your spending a breeze.
Call today for more information. BACK TO KNOWLEDGE CAFE
READ MORE
Smart ways to use credit cards
Avoiding credit card traps
Survey: Millenials determined to be homeowners
How U.S. mortgage rates are established
How a borrower's mortgage rate is determined