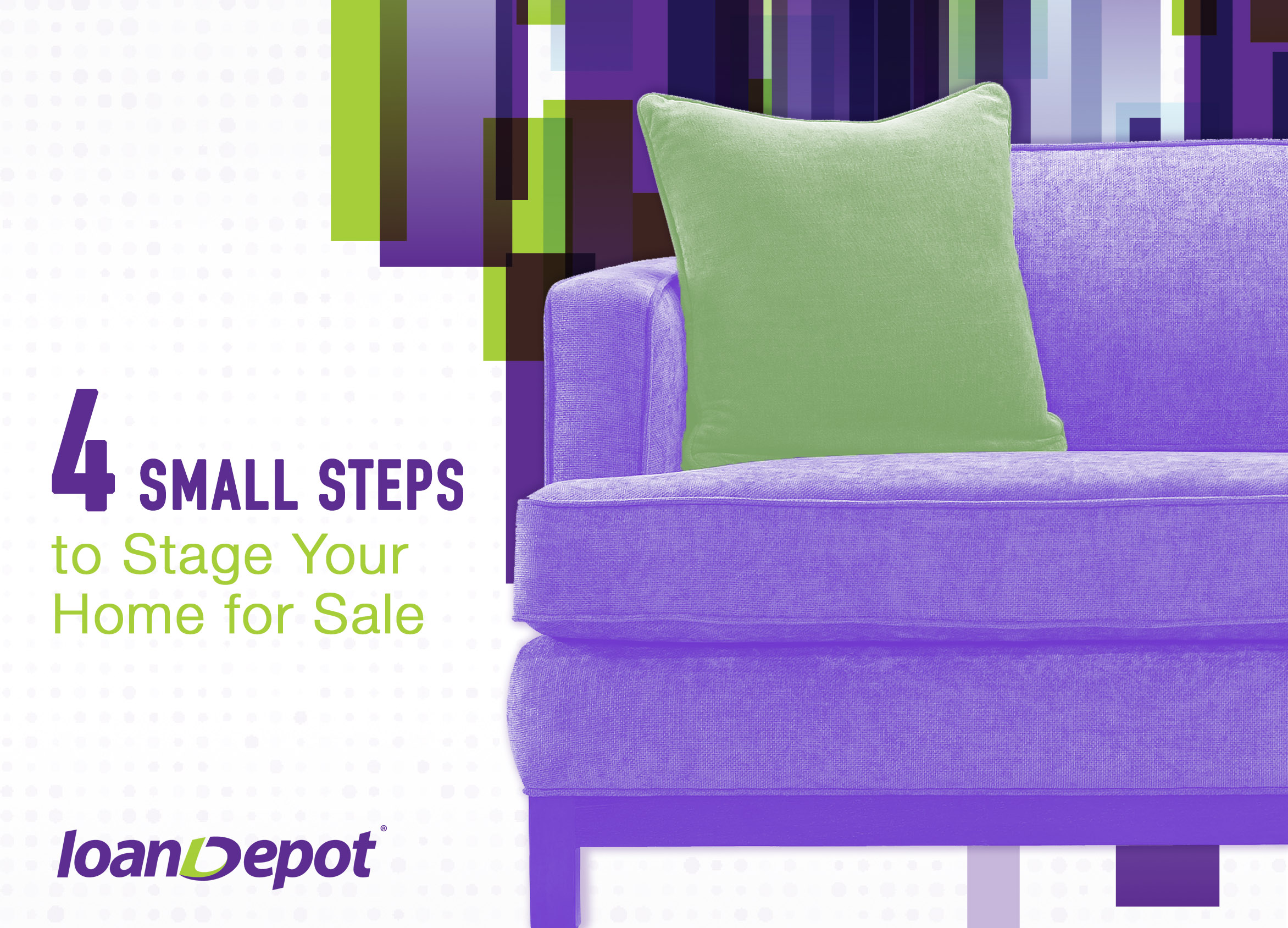 First impressions are everything when it comes to selling a home, especially if you're hoping to get the best possible price in the shortest amount of time. And while you may aspire to have a listing worthy of an HGTV renovation reveal, it may be smarter to focus on small steps that have the most impact. However, you want to guard against doing so much that the potential profits go toward covering the repairs. Savvy staging can provide an ideal solution.
By employing a few strategic tips, you can dramatically improve the way your home shows in order to get it inspection-ready without breaking your budget.
When you're ready to start the process, follow these four easy steps:
Clear out the clutter
The first step is to remove as much as possible from your space. It's easy to accumulate a significant amount of "stuff" in your home, especially if you lived there for several years.
It may not seem like much to you. But clearing the clutter allows potential buyers to focus on the bones of your house, and not the collection of knick-knacks hidden in your hall closet.
Start creating space in the most common locations like closets, drawers, garages, spare rooms and basements. Clear off countertops in the kitchen and bathrooms and remove as much as possible from shelves and cabinets where the contents are visible.
Depersonalize your home
When you have prospective buyers touring your home, you want them to imagine themselves living there. If the house is packed with your family pictures and mementos, it becomes increasingly difficult for the buyers envision themselves living there.
One of the easiest – and most cost effective – ways to "depersonalize" is to pack up your photos and other items unique to your family and move them to an area that's out of view. This may involve renting a storage space, which can be an advantage. You won't be tempted to pull the same things out, which will mean you have to put them away again, and you can get a head start on your packing. Choose a few key accessories that look clean and modern while accentuating your décor without adding to clutter.
Make sure to store personal items you need to use regularly, such as kitchen items, toothbrushes and towels, in an organized area, hidden from view. Take the notes and grocery lists off the fridge and all other unnecessary items.
Get a fresh start
Some of the things that make model homes so appealing for buyers are simple touches like fresh paint and great lighting. It helps make the home look clean, neat, and most importantly, inviting for a new occupant. A house that simply looks lived-in or worn is a big turnoff to people who view it during open houses or individual showings.
You don't need to start ripping up all the carpets or doing major remodeling projects to give your home a fresh feel. Start small by improving the lighting. Increase the wattage in your lamps and light fixtures to 100 watts for every 50 square feet of space.
Have windows and coverings professionally cleaned and keep the drapes or blinds open when it's being shown. This will not only provide great natural light ─ but will also give rooms the appearance of seeming larger.
Consider painting rooms that will make the greatest initial impression when a buyer first walks through the door. That will likely be places like the foyer, living room and kitchen. Paint the walls a lighter, neutral tone. The fresh paint helps modernize your space and can also eliminate stale odors in which you may have become "nose blind."
Enhance the curb appeal
The very first thing a prospective buyer sees isn't what's on the inside of your front door. It's what's on the outside it. Don't neglect the exterior of the property when staging your home for sale.
Take simple measures to make sure the main focal points of the outside of your home are in excellent shape. Regularly mow the lawn and make sure that no shrubs or plants block views of the house. You can also pressure wash the exterior of your home along with the driveway and sidewalks to instantly refresh the overall look. Give the front door a new coat of paint, if it needs it, and make sure railings and accents aren't chipping or dull.
Bottom line, don't minimize the importance of a first impression. Investing a modest amount into sprucing up and staging can help pay for itself with a fast sale at an ideal price.
Published July 1, 2018
RELATED TOPICS
Spring for a spring makeover with a personal loan
Garage makeover: create a spick-and-span workspace
Decorating and remodeling trends for 2017
Add value to your home with a new fireplace
Features of a great neighborhood