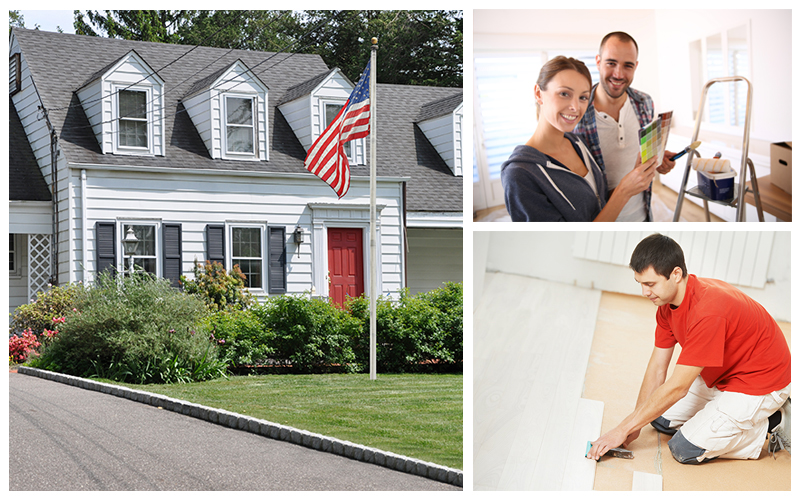 The long Memorial Day weekend is often considered the unofficial start to summer, but it's also known as one of the biggest home improvement weekends of the year.
Not only do you have an extra day off from work to devote to a significant project, most major big box hardware stores, including Lowe's, Home Depot and Orchard Supply and Hardware hold some of their biggest sales of the year around the Memorial Day weekend.
And with a low-interest personal loan from loanDepot, financing your dream projects are easier than ever. For more information, speak with a loanDepot licensed loan officer today.
Here are five affordable, do-it-yourself projects that can be completed over a long weekend:
Paint: A quick coat of paint, whether interior or exterior, is one of the easiest ways to spruce up your home with a big return on investment. Both renters and homeowners alike can take advantage of the benefits of a fresh coat of paint. Depending on the size of the space and how much prep work is needed, painting can take as little as one to two days. Make sure to budget about $50 on average per 12-foot by 12-foot room for paint and supplies.
Add new molding: Installing crown molding, baseboards, chair rails or even wainscoting is an easy, cost effective way to transform any room. There are several types of molding to from which to choose, starting as low as $.40 per linear foot and going up to $10 per foot or more, depending on your taste and style. Wainscoting typically starts around $5 per linear foot and can run as high as $15-$20 per foot. Replacing the trim around windows and doors can also freshen up a space.
Refresh interior doors: Several things can shine light on your home's age, such as trendy finishes that maybe aren't so trendy anymore or old appliances. But one often overlooked tell-tale sign of your home's age are the interior doors. Consider swapping out plain-looking 1950s flat-slab doors for more decorative, Colonial style six-panel doors or one of the many other styles available. Updating the trim around the door casing will add a fresh sense of style as well. A full door with casing can cost $90 to $250 apiece.
Install new lighting: Installing recessed lighting can brighten up any room quickly and affordably. Make sure to consult an electrician before diving into this project. Or if you've had your eye on an antique lamp or fun lampshade, why resist the urge any longer? A new lamp will make you feel you're in a brand-new room. You can install strip lighting above cabinets. Also consider redirecting your existing lighting to highlight particular features of your room.
Open up a wall: If it's that coveted open-concept look you're going for, the more accomplished do-it-yourselfer might consider opening up a wall or two between the living, dining and kitchen areas. Smaller projects that don't include load-bearing walls can be completed over a long weekend. First, determine whether or not the wall is load bearing. You can always take a quick look yourself by noting the direction of floor or ceiling joists from the attic or basement. Load-bearing walls typically run perpendicular to the joists. But it's important to consult an architect or structural engineer before starting work. Once the wall is removed, it's as simple as patching the drywall, repairing flooring and repainting to get the open-concept floor plan you've been wanting.
Now that you have the time, what about the money? A fixed-rate personal loan from loanDepot offers competitive interest rates, flexible loan terms and, in some cases, your loan can be funded in as little as three business days. Call now for more information.
Published May 18, 2016
RELATED TOPICS
Upgrade your outdoor space with a fireplace or fire pit
Patriotic personal loan: Visit the great sites of the U.S.
7 quick decorating ideas to beautify your home
Attic insulation to xeriscape - 10 money-saving home improvements
6 things you might not know about personal loans