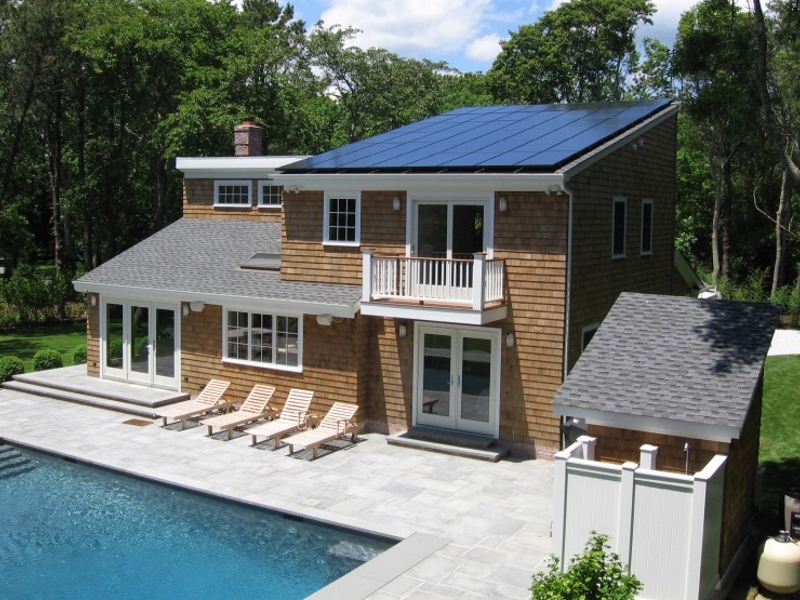 Utility bills can be costly no matter what time of year it is, so smart homeowners look for ways to reduce electricity use and conserve water. A personal loan from loanDepot can set you on your way to saving utility costs for you and Earth's natural resources for us all. For more information, speak with a loanDepot licensed loan officer today.
Here are five ways to save:
1. Let the sun heat your pool
A solar pool heating system can raise your pool's temperature even if you don't live in a super-sunny area.
A typical solar heating system includes a filter, pump, flow control value and a solar collector. Water flows though the collector and is heated by the sun, and can range from $3,000 to $4,000. You can recoup these costs in one and a half to seven years, as multiple factors affect the amount of time you'll need to see a good return on investment, including condition of your former heating system and local fuel pricing.
As you're considering each system, factor in your pool's size, duration of your swimming season, average outside temperature and how warm you want your pool to be.
A pool cover saves energy, too. According to energy.gov, a swimming pool cover is the single most effective way to reduce pool heating costs. You can expect savings of 50-70 percent.
2. Let the sun light your yard
A well-lit front yard can beautify your home, while making it more welcoming and safer. Rather than hiring an electrician to run wiring and install a permanent lighting system, try solar-powered lights. They can be inexpensive to buy, nice looking and easy to install yourself.
Once they're in place, solar lights are free to operate and can reduce your cost to light the outside of your home to zero. Be sure to position lights where they'll be exposed to sun during the daytime and so they'll dramatically enhance your landscaping and architecture at night.
3. Turn your food waste into fertilizer
Composting can help you cut down on garbage, fertilize your yard and enrich the soil in your vegetable or flower garden. To start composting, get a proper bin with a lit and create alternating layers of natural materials that are already decaying and natural materials that are still fresh. Examples of decaying materials include dead leaves, branches and twigs. Examples of fresh material include vegetable scraps, fruit scraps, grass clippings and coffee grounds. Add water to help break down the materials. Composting takes two to five weeks and can be done indoors or outside. A bin that's properly managed should not have a bad odor or attract unwanted pests.
Compost kits can range from $50 to $450.
4. Seal all the cracks
Caulking and weather-stripping might not sound like exciting home improvement projects, but these simple fixes are big winners in terms of energy savings. The more air-tight your home is, the less heated air escaped in winter and the less cooled air slips out in summer. Both ways, save you money by reducing your energy costs. Don't wait until a chill is in the air to make sure your doors and windows are well sealed. Insulation in your home's attic and walls can make a difference, too.
If your home is naturally cooled, ceiling and floor-standing fans can help to direct the breeze to exactly where you want and need it most. Your savings will largely depend on the age and condition of your home but the more you were losing, the more you stand to gain if you seal up every tiny gap.
5. Upgrade your appliances
Energy use for an average family of 3.14 in the United States costs about $2,200 each year. A big portion of that expense is for running household appliances. Newer appliances can save on resources, whether powered by gas or electricity and washing machines and dishwashers can use less water. Look for Energy Star labels on new refrigerators, dishwashers, washers and dryers, and hot-water heaters to help you find the most efficient models.

Energy Star is an international standard system to rate efficiency in consumer products. Created by the U.S. Environmental Protection Agency and Dept. of Energy, it has since been adopted by countries throughout the world.

A personal loan from loanDepot can set you on your way to saving on natural resources and energy costs all summer (and winter) long.

Call now for more information.

Published May 24, 2016

RELATED TOPICS
7 tips to get ready for your summer move
5 do-it-yourself projects for Memorial Day weekend
Patriotic personal loan: Visit the great sites of the U.S.
Upgrade your outdoor space with fireplace or fire pit
New or existing - Which is the better home option for you?