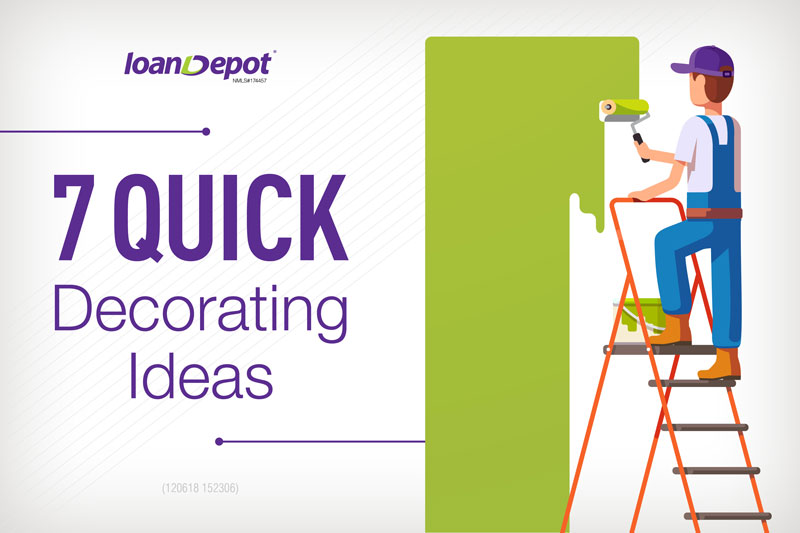 Article updated 12/18/18
Looking for ideas on how to give your home a quick refresh without spending a lot of time or money? Check out these seven interior fixes that could help add instant value to your home:
Add a coat of paint
Paint is a relatively inexpensive way to spruce up virtually any room in the house. A fresh coat of paint isn't just for walls. Painting end tables, picture frames and doors is another easy and fast way to draw attention to a specific area of any room.
Put in a stair runner
This can quickly add color, texture, and style to just about any staircase and is usually easy and cost effective. The right stair runner can also make stairs safer. From solids and stripes to geometric patterns and weaved designs, stair runners provide plenty of decorative options.
Decorate the entryway
Your home's entryway sets the tone for your home. Something as simple as upgrading the front door or adding an attractive light fixture will change the look of your home. There are literally dozens of ways to enhance your entry.
Add style with mirrors
Whether it's the bedroom, bathroom, or a main entrance leading into the living room, mirrors are a great way to beautify your home. Mirrors come in all shapes, sizes, and a variety of gorgeous, artistic frames. Not only can mirrors add style to a home but they can actually make rooms look larger. House Beautiful offers several creative ideas for decorating with mirrors.
Install interior shutters
With the summer months ahead there will be more hours of sun streaming through the windows. Decorating with interior shutters is a great way to spruce up the house while creating a way to easily keep out excessive sunlight and heat. Wood or vinyl shutters dramatically change the appearance of a room by adding more than just fabric to a window.
Deep clean tile and grout
Sometimes a professional cleaning is all it takes to give a room a whole new look. Getting rid of dirt and grime between the tiles can brighten any room in the house. Home Advisor discusses the importance of keeping tile and grout clean as well as the average costs of having the job completed.
Reupholster furniture
Nothing will make your old, outdated furniture look fresh again like new fabric upholstery. Depending on the quality of your furniture, this can be a much more affordable option than replacing it. The cost of re-upholstering a three-cushion couch will run about $850 to $1,200 and a single-cushion chair is about $550 to $700, according to Better Homes and Gardens. And while furniture upholstery isn't easy or cheap, you will have an entirely new piece of furniture when you're done.
RELATED STORIES
10 renovations for under $10,000
4 important steps in planning a home renovation
Second mortgages: What they are and how they work
Home equity as a financial tool
Negotiate the renovation to get the most bang for your buck