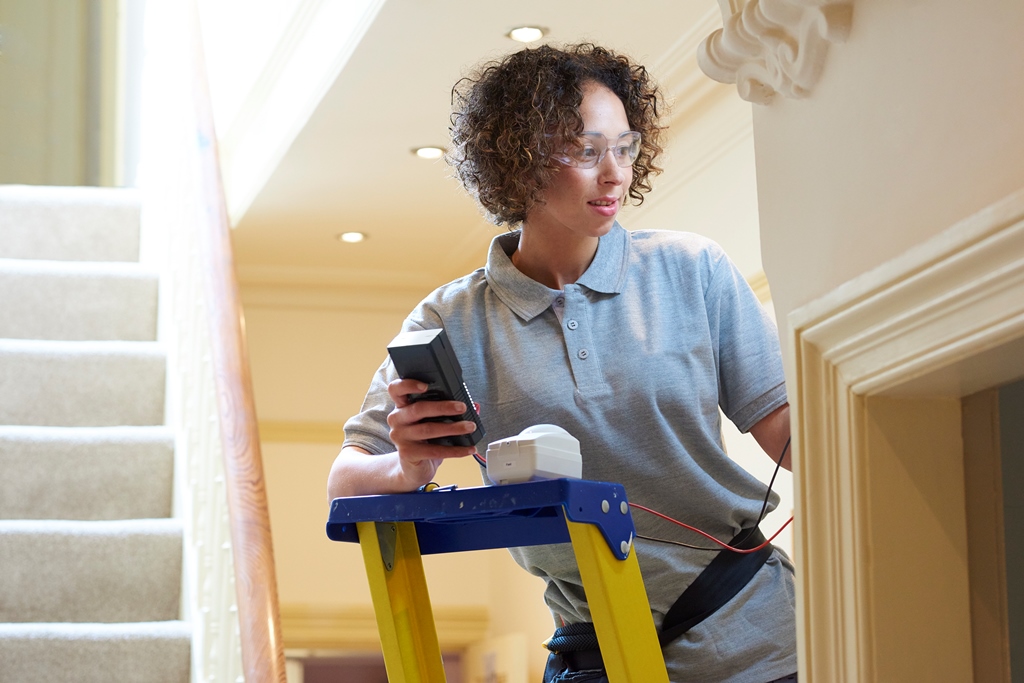 Remodeling is all the rage right now, and an abundance of do-it-yourself TV shows and websites have ignited a DIY craze that's sweeping the country. In fact, consumer spending on home remodeling has outpaced the economic recovery, according to a 2015 report from the Joint Center for Housing Studies of Harvard University.
But even some of the more experienced DIYers can bite off more than they can chew, which can lead to added expense, injury or a project gone wrong. A recent report from the Centers for Disease Control and Prevention shows that emergency room visits caused by unintentional injuries jumped by more than 1.5 million cases from 2005 to 2011.
Before launching into a major project that warrants hiring a professional make sure you have the funds you need with a personal loan from loanDepot.
Hiring a pro for these five projects, which all require extended skill, knowhow and equipment, can help ensure the job is done right and safely.
Electrical work: Aside from the obvious risk of electrocution and shorting out your electrical wiring, there are legal reasons why all electrical work should be left to a licensed professional. Whether you're installing new wiring, or troubleshooting an issue with existing wiring, conducting your own electrical work is problematic. For instance, most cities and states have strict building codes when it comes to the installation or moving of electrical, which can create problems when it's time to sell the home or if you want to pull a permit for future work. Also, insurance companies can deny claims when unpermitted electrical is involved.
Roof repairs or replacement: Your roof is one of your home's biggest assets. Even the slightest mistake can cause leaks or problems, which will put your entire home at risk. Also, any activity that requires you to be on the roof of your house is dangerous. Even smaller tasks, such as cleaning your rain gutters, can result in ladder slip-ups. A professional will have access to the latest safety equipment and the proper tools to ensure the job is done efficiently.
A/C repair and maintenance: Leaks in an air-conditioning unit can cause serious health risks as well as damage to the environment. A Freon leak can harm your family and cause ailments ranging from headaches and nausea to asphyxiation. That's in addition to the damage such a leak will do to the air-condition unit itself. Due to the lasting health and environmental risks involved, this task is best left to the pros.
Large tree trimming or removal: Trimming or removing trees, especially larger more mature trees, can be problematic and you should think twice before attempting the job yourself. Tree trimming is actually a delicate art that require knowledge of complex angels and cuts. Trimming large trees can also cause injury or damage to personal property if proper precautions are avoided. Your body and your home will thank you for leaving this job to the pros.
Plumbing: Similar to electrical work, proper plumbing follows rules, standards and building codes set by the International Association of Plumbing and Mechanical Officials and your local government agencies to ensure safety. Plus, water moves swiftly and can cause thousands of dollars' worth of damage in just a few minutes. Professional plumbs know the right parts and tools to fix broken or leaky water lines and ensure your home's pipes stay in good working condition.
Bottom line? When it doubt, leave the work to a licensed professional. Do a cost-benefit analysis and be sure to weigh your skill level and the amount of time it will take versus hiring a professional. For more information on how a loanDepot personal loan can help finance your home renovation, call us today.

Published July 12, 2016

RELATED STORIES
5 DIY projects for Memorial Day weekend
7 quick fixes to beautify your home
The $36,000 dream kitchen
10 renovations under $10,000
4 important steps in planning a home renovation