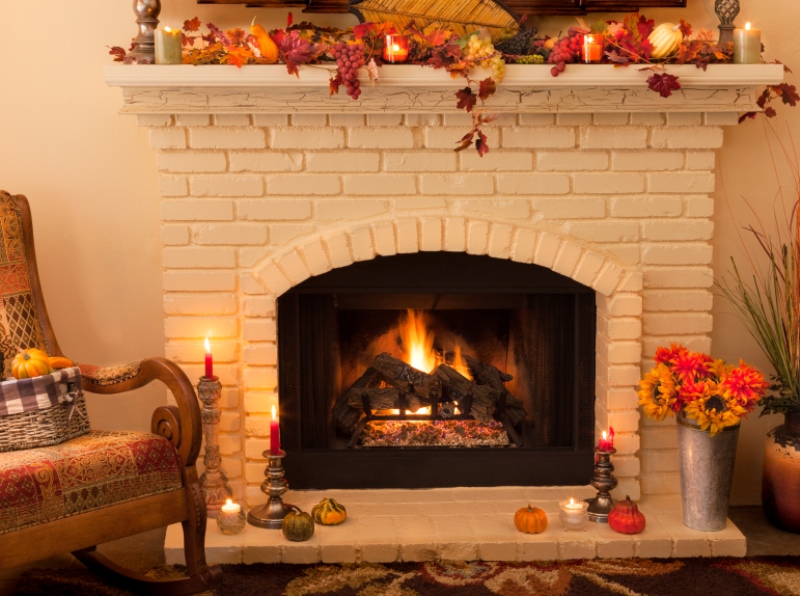 Summertime means vacations and plenty of outdoor fun in the sun. But there's nothing like the cool, crisp climate of fall to trigger the nesting instinct. With autumn on the doorstep, it's time for some quality indoor time with friends and family by setting the appropriate mood. Slip on your favorite cozy sweater and grab a pumpkin-spice latte as you ponder the best ways to incorporate the beauty of fall into your home.
If you'd like a little more green to bring out (and welcome in) the orange and yellow, speak with a Licensed Lending Officer at loanDepot about getting a personal loan to help you with your seasonal makeover. Call today for more information.
Minor landscaping
The first impression people have of your home is from the outside. Make your yard inviting with autumn landscaping. Fall is a great time to plant trees and shrubs. The ground is still warm from summer, which is good for root development. Plus, the weather is cooling down, providing a nice climate for growth. Add color by planting pansies and putting out containers of garden mums. If you have room in the backyard, you can grow many types of cool-season vegetables such as cabbage, kale, carrots, and Brussels sprouts.
Pops of color … or all neutrals
It's always fun to bring color into your home, and the gorgeous shades of autumn do not disappoint. Chocolate brown, burnt orange, and rich plum all strike the right note. Display your favorite fall color indoors by adding an element that stands out in a room, such as an accent chair in an opulent fall shade. Pair it with a warm, comfy blanket to create a homey look and feel. An end table or area rug in a rich fall color also works. Maybe you're ready to paint the walls or a door with the season's trendiest color. If so, try Benjamin Moore's "Million Dollar Red," "Autumn Purple," or "Salsa Dancing."
Create a fall theme by mixing colors that go well together. Choose a particular palette for the most pleasing look. For example, pair brown, orange, and purple if you favor an eclectic or rustic appearance. You can't go wrong by teaming cranberry red with either gray or yellow for an even more beautiful appearance. Or if you're going for drama and intensity, work with a black, brown, and yellow color combination.
Instead of suggesting fall by the colors you choose, you can also celebrate the season with neutrals. Do this with the textures you include throughout your home. For example, beige-, charcoal-, or cream-colored faux fur accessories such as throw pillows, blankets, and rugs give you a soft and cozy – yet rich and luxurious – look that glams it all up for fall.
If rustic home décor is more your style, use clear mason jars to create simple, but comely centerpiece. Wrap some twine around each. When filled with fall leaves or flowers, you'll get a touch of color with a mainly neutral look. Faux antler 3-D wall art completes this rustic, neutral scene.
Use holiday-themed décor
A perennially favorite way for people to incorporate fall into the home, both indoors and out, is by using holiday-themed décor. Make your front porch festive by piling up pumpkins and gourds. Intersperse them with potted mums. Hanging an autumn wreath on the front door oozes hospitality. And, by adding fresh greenery, you can make the wreath fragrant as well as beautiful.
Inside, use your foyer and dining tables, as well as your fireplace mantle, to showcase pinecones and miniature white or orange pumpkins. Just group these whichever way you prefer – for a casual, laid-back look.
Instead of floral displays, wow your friends and family with beautiful fall leaf arrangements. Use a combination of red, purple, and green leaves of varying shapes and sizes. Arrange them as you would flowers. Add some green and feathery foliage to the display, and you've made a stunning display.
A personal loan from loanDepot can help you cozy up your home to prepare for a long, cool winter. Speak with one of our Licensed Loan Officers today.
Published Oct. 11, 2017
RELATED TOPICS
Haunted homes and spooky spaces
A field guide for first-time homebuyers
Seal in warmth this winter with new windows
Earn money for your down payment with gigs that bolster your budget