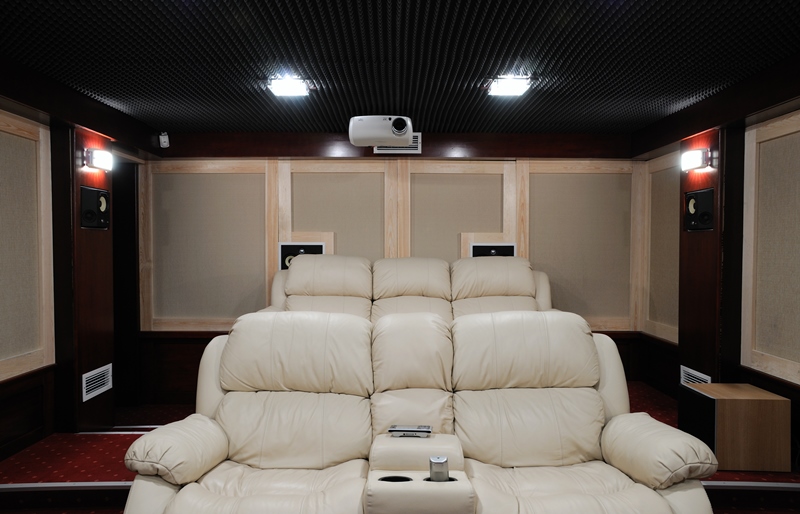 Entertainment and exercise can be expensive. Having a sound way to relax and enjoy time together while also having convenient fitness options are important to many families. Since nights out at the movies can easily run $100 for a family of four and gym memberships can run more than that monthly, maybe a home alternative of one, the other, or both can serve your family's activity and entertainment needs? And these projects can be easily financed through a cash-out refinance, home equity loan, or a personal loan.
Determining priorities
The first questions to ask is which type of family are you? Will you put a home gym to use, or will the bike and treadmill serve as extra coat and laundry racks? If you choose a home theater, how fancy do you want to go? Or do you want a little of both?
Research options
Before you build a home gym, theater, or both you need to know what your options are. Think of the space where the exercise and/or audio video equipment would go. What can physically fit in your space? Some types of exercise equipment are more compact or fold up for storage. These may be an option. If the main users of the equipment are creatures of habit and spend a lot of time on a particular type of machine, such as a treadmill, it may be worthwhile to spend a little more on that one piece, and get less expensive versions of equipment that will see lighter use. Write down what you really want. You can always scale back when it is time to make the actual purchase.
Assess your space
There are also various scenarios to consider with a home theater. You will want to look at seating possibilities ─ should you get a large sectional or individual recliners? The latter provide a finite number of places to sit, so if there is room and you're expecting to host larger gatherings at times, perhaps you should consider a combination of both? Once you figure out the furniture configuration, it's time to dive into your technology options.
Screening your choices
Next you need to decide on the key piece of equipment for a home theater ─ the screen itself. There are essentially two options: A big-screen HDTV or a projector-and-screen system. TVs, particularly smart TVs, offer so many ease-of-use benefits. They're now quite lightweight, they're easily connected to cable, satellite and the Internet and they support gaming systems. Many offer superior picture quality, but not necessarily. Projectors have come a long way. A good one won't leave you settling for a grainy or light image but you will also want a good-quality screen that will allow the projected image to display at the highest-quality. Keep in mind, you will also need a sound system too, which generally retail for around $150 to $300. The latest in projectors
Many projectors include HDMI outputs that are compatible with cable or satellite boxes and eliminate the need for an actual television. A projector system that costs around $1000 will offer HD-quality viewing with a vertical resolution of 1080p, and will project an image from 34 inches to over 300 inches. Many also support 3D viewing. Standard models start at $700 and go as high as $2,600.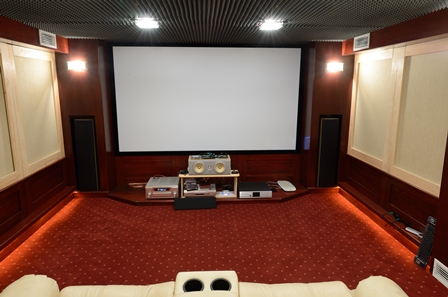 Is bigger better?
Prices for 2160p resolution large-screen TVs that are in the 60-80-inch range can be priced $1000 to $8000. The quality may be somewhat superior but the average viewer may not be able to tell the difference from a quality HD projector. A large screen television can be mounted on the wall, which can be a cumbersome task, and once the television is mounted, it is even harder to move.
Enact your plan
Once you know your options, it is time to look at what you can afford. Is your home gym and theater important enough for you to invest in top-of-the-line equipment and furnishings or will functional suffice? For most people, a couple thousand dollars will buy a couple pieces of quality exercise equipment, and acceptable home theater options as well.

A cash-out refinance, home equity loan or personal loan can make these aspirations a reality and perhaps a compromise is in order? Get a great-quality treadmill that will fit in the area where you can view your big-screen and watch while you work out.

Call today for more information.

Published March 24, 2016

RELATED TOPICS
Size vs. location: Which is most important to you?
Millennial markets: Where are they going? What do they want?
Meet 'The Jetsons': The latest in home technology
Vacation or backyard makeover: Which will your family choose?
Negotiate your renovation to get the most bang for your buck