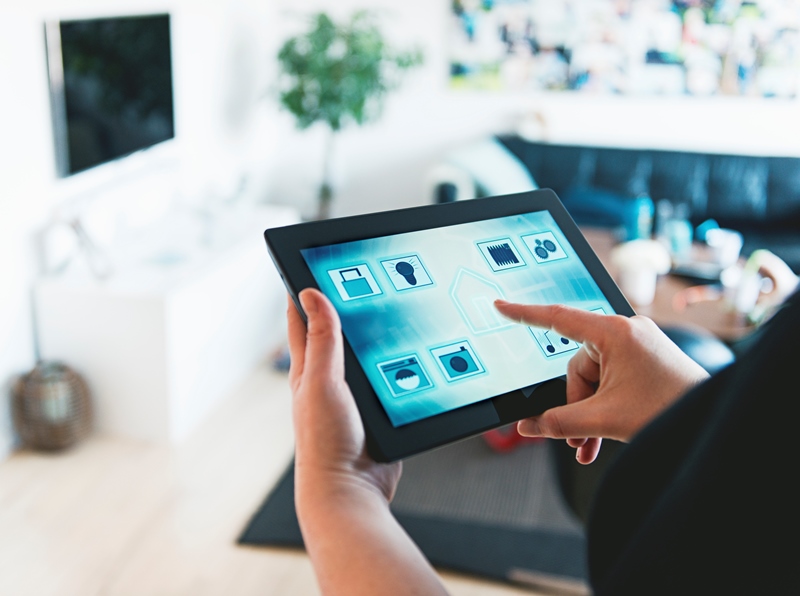 Ah, technology … where yesterday's breakthroughs become today's life tools. After the recent holidays, many people have experienced all types of new gadgets for their homes. Do you find your family whispering when referring to Alexa in conversation for fear the machine will "listen" and start volunteering random input or ordering products you were just chatting about? Before you've managed to train your Rumba to not eat your charging cables, it's time to implement a whole new wave in amazing home technology.
Staying on the edge of home tech in 2018 doesn't have to be financially out of reach. With a personal loan from loanDepot, it only takes a few minutes to get the funds you need to manage even the most comprehensive conversions. Speak with a Licensed Lending Officer today for more information.
In the meantime, let's take a closer look at some of the most effective, efficient, and interesting home upgrades available to you. There's just about anything you can imagine these days at your fingertips.
Smart speakers
We've arrived in the era of "Star Trek," where the crew of the USS Enterprise simply had to say, "Computer …" and then issue a request or command. A calming female voice responded and immediately carried out the order. Google Home and Amazon's Alexa are two dominating brands in this business. Ask them a question and they'll answer. Ask them to create a list, play music, or place an online order, and they do. This type of advanced technology gives you information at your fingertips. What's more, you can use them for most of your shopping needs, too. The Alexa Dot starts as low as $50 and the units go higher depending on the quality of speaker sound you want and a few other options.
Smart thermostats
Why not save money on your electricity and heating? With wireless smart thermostats, you can do just that. The Ecobee4 allows you to control your thermostat in various areas of your home even when you're not home. Nest Thermostat and the Bosch Control also offer similar options. Optimize your energy use by adjusting the temperature with your smartphone. The thermostat will "learn" which rooms you use the most and begin adjusting the temperatures accordingly. The units retail for $169 to $259 and some utility companies offer rebates for installation.
Smart lightbulbs
Smart lightbulbs or "personal wireless lighting" systems such as Phillips can help you set the perfect mood. They work with other smart home systems such as Alexa, Google Home, and Apple's HomeKit to allow you to adjust the brightness for time of day or activity, make it appear like you're home when you're not and even change colors. The color ambience option can synch to your music, games and movies, controlled by a wide range of apps.
Home-security options
A number of new innovations are cropping up to help better secure of your home. Here are a few to consider:
The

SmartCode 916

works as a smart door lock, not allowing anyone in without a password, but is also app-connected.

A smart garage door opener, such as the

Wink System

or

MyQ

, can help to control access to your garage from a distance and reassure it is closed, if you begin to wonder.

Ring

is an excellent tool that allows you to see who is ringing your doorbell right on your smartphone. You don't even have to be home.
Shopping from home
Here's a fantastic tool to help make life a bit easier. Amazon's Dash Button is a simple purchase. These are brand-specific items linked to your Amazon account. When you run out of laundry detergent or toilet paper, push the button. It sends an automatic purchase to Amazon to get your product delivered to your door in no time.
These are just some of the most enticing of all of the tech upgrades for your home. Some of the options available to you can be easy to install while others may take a bit of expert help. All are worth consideration.
Whether you're considering a significant home upgrade or just a few modifications, loanDepot has the financial resources to help you. Our Licensed Lending Officers are happy to help you look into options such as a personal loan to help you get started. Give us a call now.
Published Jan. 9, 2018
RELATED TOPICS
Go high tech with your home gym
4 factors driving the housing industry in 2018
Get your financial house in order in 2018
Which water heater is the better option?