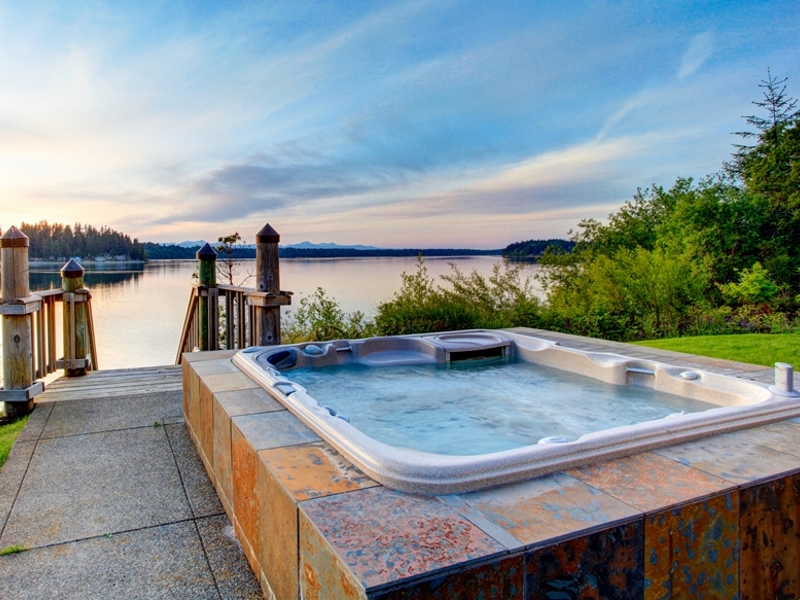 Water. It's not just essential for survival – it makes up the majority of our body mass and the surface of our planet. Water works its magic in wondrous ways; consumption for health is just one of them. It can heat us up, cool us down, foster therapeutic relaxation, or provide visual and aural atmosphere in the form of water falls, fountains and other features.
This is the second of a three-part series about choosing the ultimate "H2Oasis" for your backyard, taking into account your space, budget and current needs. Construction might be major – requiring a home equity loan – or minor, covered by a personal loan.
PART TWO: SPAS
What could be better than relaxing in a private spa in your own backyard? How about relaxing in one with the latest bells and whistles? Advancements in hot tubs have made the experience of having hot water and massaging jets soothe your sore muscles and alleviate your stress even better than before.
Whether you intend to use your hot tub when entertaining guests – or you want one for therapeutic treatment after a long day at the office or a grueling workout – you will be impressed to see what's new in the world of spas.
Relaxation is just a phone call away. Call today to speak with a loanDepot licensed lending officer about a personal loan today.
Hydrotherapy
Simply put, hydrotherapy is the use of water to help treat and heal physical issues. Hydrotherapy isn't new; in fact, it's one of the oldest types of medical treatments. But while ancient societies might have soaked in natural hot springs, you can soak in a brand-new spa at home. Hydrotherapy can be beneficial for sore muscles and ligaments – as a stress reliever, or to help promote sleep by soaking in the tub before bedtime.
Chromotherapy
Chromotherapy uses colored lights in water. In a hot tub, lights create a soothing or energizing effect. You can choose whether the colored lights alternate or remain on a single color during your hot tub session. Chromotherapy colors typically include blue, green, violet, red, orange, yellow, and white.
Aromatherapy
Like hydrotherapy, aromatherapy dates back centuries, and can combine enhance the experience of using your hot tub. Rather than adding essential oils directly into the tub, add scents made for spas. For relaxation and stress reduction, lavender, chamomile, and jasmine work wonders.
Automation for maintenance
One of the banes of owning a hot tub is maintaining the chemicals needed to treat the water. But technical advancements for hot tubs make this maintenance requirement easy. You can add a built-in chlorine generator and an auto tester to help your hot tub stay clean. It's always a good idea to check the levels yourself just to make sure, which can be done through a smartphone app.
Aural atmosphere
Whether you want soothing and relaxing sounds or a full-on party jam, you can listen to whatever type of music you want while soaking in your spa. Consider installing a boat stereo in your hot tub that you connect with Bluetooth. You could also place Bluetooth speakers near your hot tub and control the music with your smartphone.
Energy-efficient hot tubs
Look for energy-efficient spas to save on your monthly utility bill. Choose one that's fully insulated so the heat stays in the tub. Also ensure the cover is fully insulated. When you purchase your spa, look for a material such as urethane foam, which is used to insulate commercial freezers, for best results.
Saltwater hot tubs
Saltwater tubs can replace chlorine tubs, which are easier on your skin, eyes and hair; and, they don't have the same chemical smell. You'll need a chlorine generator that converts salt into chlorine with a saltwater tub. Some chlorine is associated with a saltwater spa, but there's a lot less of it. The chlorine in a saltwater spa is generated continuously compared to the regular chlorine treatments required for a standard spa. The saltwater can be more corrosive to metal spa components but can be alleviated by changing the water with slightly more frequency.
Regardless of the accessories with which you enhance your hot tub to make the experience most enjoyable to you, the ultimate benefit is the relaxation you get in a soothing spa at the end of a long day. With a loanDepot home equity loan, your dream of owning a spa is just a phone call away. Call a loanDepot licensed lending officer to discuss a personal loan today.
Published July 31, 2017
RELATED TOPICS
Make a splash with water elements for your backyard – Pools
Make a splash with water elements for your backyard – Water features
Is equity fueling a home-renovation boom?
Keep your pool in order