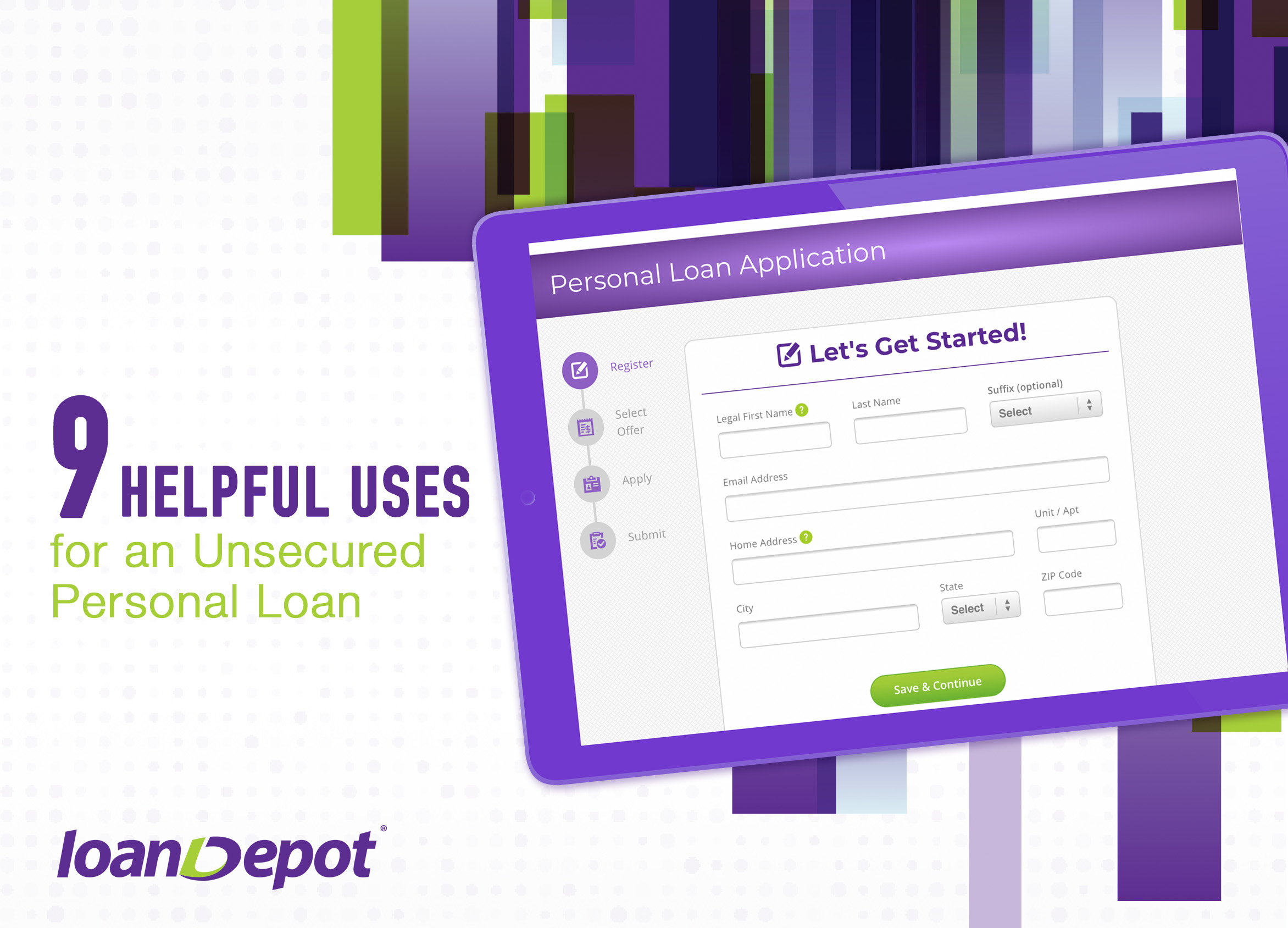 Unsecured personal loans from marketplace lenders can be used for nearly any purpose. Here are nine:
Credit card refinance
Got credit card debt? If you're like more than 45 percent of all U.S. households, the answer is yes, and according to Nerdwallet, the average amount owed per household is about $15,432. Refinancing higher-interest credit card balances into a more affordable personal loan with a great rate could save you thousands of dollars over the life of the loan.
Even if you have less than perfect credit, an unsecured personal loan can help you save money, improve your credit rating and give you a fresh start to get your financial life moving forward.
Credit cards can be useful, but they are dangerous if you don't have the means to pay off the balance every month. And just one late payment can send the interest rate soaring upward of 30 percent APR. Anyone who's been in this situation knows it's difficult to chip away at a debt with such an exorbitant interest rate.
If you're only making minimum payments each month, it's time to consider refinancing your higher-interest credit into a lower, fixed-rate personal loan from a consumer-friendly marketplace lender such as loanDepot.
Home improvements/renovations
Sometimes it's building your dream kitchen or adding on another bedroom. Other times it's replacing a leaky roof or a faulty water heater. Either way, a personal loan could be your answer.
No matter the size of your home-improvement project, a personal loan of up to $35,000 can help you realize your dream. It can also save you money when compared to using a credit card, even one that offers a low introductory interest rate that skyrockets after 6 or 8 months. Some personal loans, including those from loanDepot, can be paid back over 3 or 5 years and have no pre-payment penalty.
If you're planning to sell your home in the near future, it's a good idea to keep in mind that some home improvements, such as an updated kitchen and bath. Your odds of a higher return on investment increase dramatically when you do as much of the work as possible yourself.
Debt consolidation
You can't borrow your way out of debt, but you can save hundreds of dollars a year and speed up the process by consolidating higher-interest loans, credit cards, lines of credit or even back-taxes into an affordable, fixed-rate personal loan.
Since the principle amount decreases with every monthly minimum payment, a personal loan used for debt consolidation can help you eliminate debt and boost your credit score at the same time.
You can also stop writing multiple checks every month to a slew of different creditors and instead have one monthly payment with one interest rate. Debt consolidation may be just the tool you need to give yourself a fresh start and pay off debt.
Vacation of a lifetime
You work hard and every once in a while you need to play hard, too. If it's time to treat yourself and your family to something special, affording that dream vacation is easier than ever with a personal loan.
Traveling is already stressful enough, paying for it doesn't have to be.
Major purchases
Everyone knows the pain of dealing with unexpected or urgently needed expenses. A personal loan makes buying appliances, furniture, or even a new car quick and easy. Plus you get the comfort of knowing that your payment will never increase and the loan will be paid off in a set amount of time, like 3 or 5 years.
You can even make the large purchase on a credit card to earn points or rewards and then use the personal loan to pay off the balance.
Energy efficiency
With rising utility costs, it's starting to look more and more appealing and cost effective to make your home more energy efficient. Whether it's installing new triple-pane windows or rooftop solar panels a personal loan can help you 'go green.'
And a great part about going green is that by making simple changes, such as replacing your landscaping with drought-resistant plants, you're helping protect the environment now and for the future.
Running your business
Every small business owner knows the struggle of managing cash flow on a daily basis. From balancing payroll and taxes to buying equipment and supplies to fulfill a big contract, every once in a while you need some financial help. A traditional small business loan can require turning over all your business' financial records and a lengthy approval process. A personal loan up to $35,000 can be approved and funded in just a few days.
A personal loan is issued to you, the individual, not your business, and can be used for anything you choose. That might really come in handy if your business is young and doesn't have the track record to qualify for credit on its own. loanDepot personal loans carry fixed rates and repayment terms of three or five years, depending on the amount, with no prepayment penalties.
Medical expenses
A U.S. Consumer Financial Protection Bureau study found that nearly half of all debt in collections is medical debt. Unexpected medical expenses are one of the leading causes of bankruptcy in the United States, but there's no reason a large medical bill should destroy your financial life. With a personal loan, you can pay your medical expenses on your own terms and stop the harassing collections calls.
You can also use a personal loan for elective procedures such as fertility treatments, laser eye surgery, or cosmetic surgeries. Because elective treatments aren't life threatening, many insurance companies only cover a small portion, if any, of the costs.
Moving expenses
Like any major life decision, a big move requires planning and budgeting to be successful. Before you start to pack, it's important to sit down and calculate exactly how much it will cost to get your from Point A to Point B. You may be surprised to learn that an interstate move can cost $5,000 or more. While it's true you can save money by doing it yourself, that can take a toll on your body and relationships.

A personal loan from loanDepot can help ease the sticker shock and help you quickly get your new home in order.