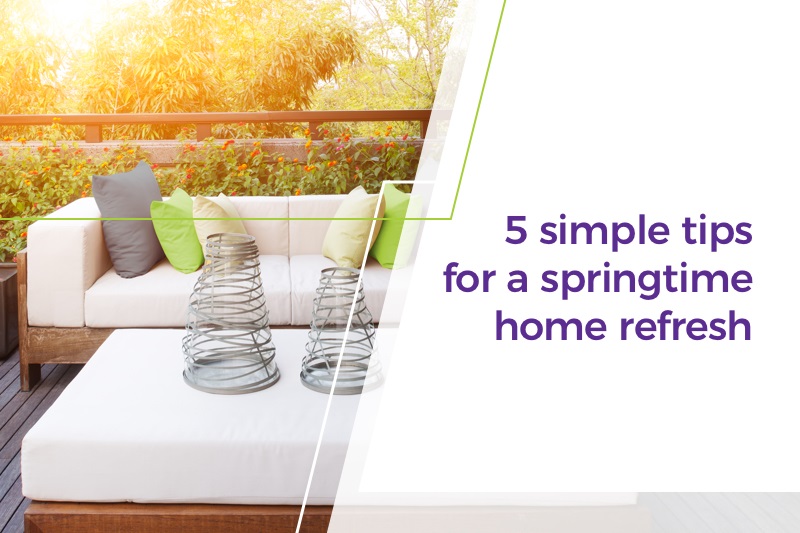 (Article Updated on April 5, 2019)
The days are getting longer, lighter and warmer—a sure sign that it must be spring! Now is the perfect time to transition your home décor from the warm coziness of winter to the bright, energetic feel of all-things-spring. Check out our five favorite tips for putting some spring into your surroundings:
1. Fresh foliage and flowers
One of the best ways to brighten up any space is to take advantage of plants in bloom. Whether your design preferences include arranged bouquets, potted plants, or a combination of the two, spring foliage and flowers add a fresh and fragrant accent to any living space—and it's not just for the aesthetic. According to NASA, having multiple living plants in your house can actually purify air and filter out harmful toxins. If you don't want to spend a lot of money, choose plants that are in season, making them more plentiful and less expensive.
2. Rearrange the furniture
The fastest way to make a significant impact on a room's energy flow is to rearrange the furniture. Not only can this dramatically change the look and function of a room, it can make it feel brand new again—even without having done anything else. Before you start any heavy lifting, try using one these home improvement apps to visualize prospective layouts.
Rearranging furniture is fairly intuitive, since you already know what works and what doesn't. However, if you are also planning to stage your home for sale and/or take professional quality photos to show off your home, remember that less is always more. Deliberate placement of furniture and accent pieces will automatically open up even the smallest room. Having trouble letting go of family heirlooms or antiques? Rent a storage space and pack up any ones you don't need for day to day living.
3. Switch out heavy window treatments
Want to take some weight out of your room? Swap out heavy draperies for light and colorful window treatments. Experimenting with different ways of filtering natural light can change the mood of a room given the time of day. You can purchase inexpensive, ready-made curtain panels or, if you want something really specific, the result is worth the cost to have custom window treatments made.
4. Change up your color palette
There are few things that give a space a more dramatic update than a fresh coat of paint. When you factor in the cost of materials and effort required, painting a room is a great value for such a huge transformation. Lighter and brighter colors reflect light and will make a room appear larger, so don't be afraid to go out of your color comfort zone. Just remember to start with a small wall swatch before fully committing to any color. If you don't know where to start, you're in luck – the start of the season is when many designers debut new interior colors for the year.
5. Toss out the old
Japanese decluttering expert Marie Kondo has a simple philosophy about organizing your home. "Discard everything that does not spark joy." Now's the perfect time to begin reducing any clutter that's built up in your home.
It isn't easy getting rid of your stuff, which is why it tends to accumulate even when you think you're being strict about throwing things away. This is especially true if you feel emotionally attached to certain items or feel like they could come in handy at a later date.
Considering an ambitious home improvement project? Be sure to talk with one of our loan consultants who can tell you more about our home renovation loans. It could be your seed money to making the transformation you need. Give us a call today!
Originally Published Feb. 28, 2017