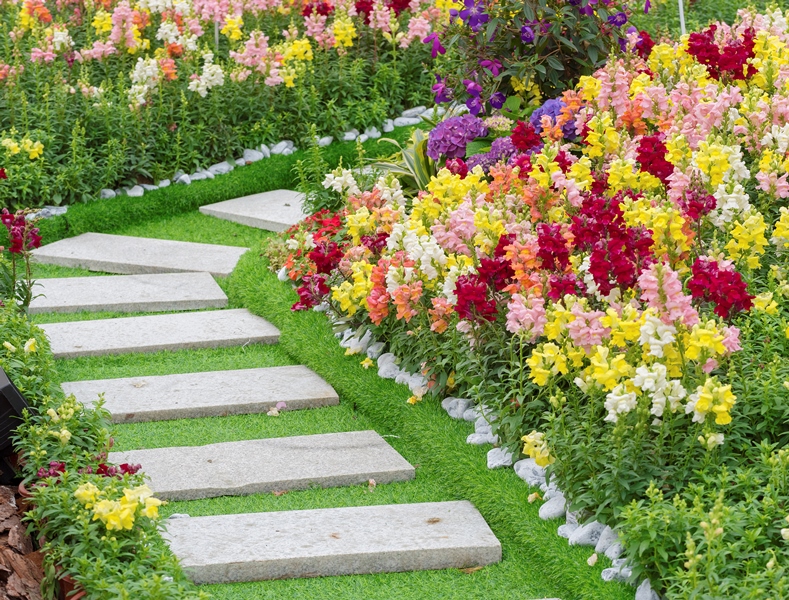 With spring right around the corner, it's time to start preparing your yards for a little outdoor living. Regardless of whether you're still digging out of the snow in Minnesota, or just needing to prune your rose bushes in California, it's time to start thinking about your spring and summer garden.
A Personal Loan from loanDepot can help bolster your budget to help spruce up your outdoor spaces to make them areas of beauty and comfort for the coming seasons. Speak with a Licensed Lending Officer today for more information.
Clean up flower beds and borders
If you live in a more temperate climate, it's time to start cleaning up your flower beds and borders. Clear out leaves, remove any dead annuals, cut back old dead growth on your perennials, and trim back deciduous grasses. Evergreen, or semi-evergreen perennials should also be trimmed back.
Plan your hardscaping projects
While the weather may not allow for it just yet, you'll want to start planning your hardscaping projects. Whether that's a gorgeous wooden wall, a water fountain, or an outdoor shower, HGTV has some fantastic ideas. You'll want to start as soon as the weather turns so that you're able to enjoy your new feature for as soon as the weather permits.
Prep your soil
If your garden is not still sleeping beneath a snow blanket, put down a two inch layer of compost or recycled green waste into empty borders. If you're planning on adding new varietals in the spring, it also makes sense to test your soil. Depending on what you're planning on planting, testing your soil now will give you ample time to adjust pH, and other levels prior to actual planting season.
Fix fences, gates, trellises
Spend some time doing a thorough review of your fences, gates, and trellises to ensure they're in good shape and not in need of any repair. Especially for features that have vines or other greenery growing on them, now is the time to make adjustments before the plants begin to bloom and grow again. By making these repairs now, you'll have more time for the fun stuff in your garden when the weather warms up.
Repair or add an irrigation system
Check your sprinkler heads to ensure that they're all working. Clean and reset those that aren't working and replace those that are broken. Check your system's water pressure. If water pressure is low, either turn on the valves at the backflow device or check your system for leaks. For specific zones in your system that may not be working, take a look at your valves, your fuses, and the voltage to the zone that's not working.
If you're tired of lugging hoses around and shifting sprinklers, now's the time to look at installing an irrigation system. Not only can it save you time and energy, it can also help to take your garden or lawn to the next level. While you can dig your own trenches and install your own system, for larger projects, consider hiring a professional.
If you're ready to turn over a new leaf, you can make your lawn and garden into a peaceful oasis to enjoy all summer. A Personal Loan from loanDepot might be the ideal solution to pay for those larger hardscape projects or new irrigation system. Call to speak with a Licensed Lending Officer today.
Published March 8, 2018
RELATED TOPICS
Strategies for optimizing your interest rate
How to find a real estate hidden gem
Digital design – use these apps to visualize your home improvements
5 home improvement projects you can complete by spring
*Personal Loans are issued by Cross River Bank, a New Jersey State Chartered Commercial Bank, Member FDIC. Individuals must be a U.S. citizen or permanent resident and at least 18 years old to apply for credit from Cross River Bank. Residents of Alabama or Nebraska must be 19 years old to apply for credit. Valid bank account and Social Security Number/FEIN required. All loans are subject to credit approval. Your actual rate depends upon credit score, loan amount, loan term, and credit usage history.