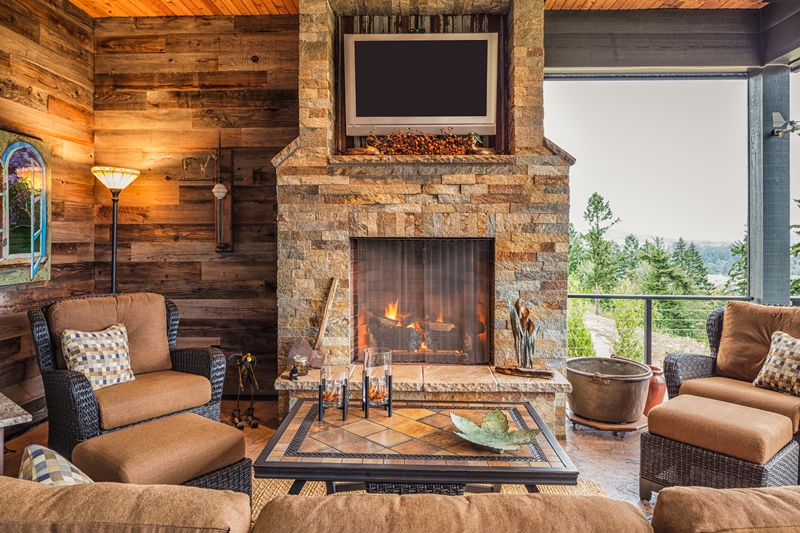 There's nothing more rewarding for a dad than working hard to build a good life for his family. But every now and then, a guy needs a break from it all. That's where the "man cave" comes in. But basement or spare-room man caves are so two years ago. Why should Dad be relegated to the dark recesses of the house when it's a gorgeous summer day? He shouldn't. Shed a little sunlight on the man cave concept by moving the entire experience outdoors. A personal loan from loanDepot can help make this ultimate Father's Day gift possible.

Outdoor technology has come a long way since the days of the Coleman stove and the transistor radio. Let's look at some updated versions of tech in the best gadgets and gizmos that you can have for the ultimate outdoor man cave. Some of these items can get a little pricey, so explore what a personal loan from loanDepot can do for you in outfitting your outdoor space to the fullest. For more information, speak with a loanDepot licensed loan officer today.

Skyvue outdoor televisions are king

It was bound to happen; technology has caught up with the challenges of having two great pairings that never quite worked well together: television and the outdoors. It's great to be able to watch the game while enjoying your pool and patio. But the glare of the sun has made it almost impossible to see a TV picture clearly. And it is risky to leave a TV outdoors, vulnerable to the elements. However, manufacturers are now designing TVs specifically for outdoor use and they're sure to be the centerpiece of any exterior man cave. Skyvue makes some of the best weather-proof TVs in the business and they have models you can choose for direct sun or indirect sun. And you can never go too big when it comes to outdoor TVs. Go for the OBX DS 700 for clarity that is second to none. It comes in sizes ranging from 32-80 inches with prices from $2,800 to $9,300. Have the guys over for the big game, or watch movies with the family in the evenings or at night.

Amp up your sound with an outdoor system

What good is a cutting-edge TV if you don't have the audio system to match? Even if you're not watching television, you may want to crank up your favorite tunes so you need outdoor speakers that will carry sound throughout the area. Bose Speakers are top of the line, impressive, and come in a variety of styles, including those made for outdoor use, such as the Free Space 51 Environmental Speakers. These speakers can be placed in the ground and are tested for exposure to sunlight, rain, heat, ice, salt and water while delivering long-lasting performance and optimal sound. They retail at $450 apiece.

Crack – or pour – a cold one

Anyone can store a little plastic Coleman cooler outside, but your man cave deserves better than that. You need a killer beer fridge to hold your favorite brews. Sainty Art Works makes standing coolers that are not only "cool," but they have a wide range of themed design options, including NCAA team logos. Or, for the true beer aficionados, consider a full-blown outdoor bar, complete with your favorite suds on draft. Prices can range from $200 for a cooler up to $15,000 for a full bar set up.

The new BBQ: an outdoor pizza oven

What's better than cooking outdoors? You probably already have a killer barbecue to grill up your favorite steaks and ribs, but what about adding an outdoor pizza oven? Make pizza for your family and friends when you grant them access to the realm that is your man cave. The Sloan Fire Outdoor Pizza Oven ($5,000) makes fire-roasted pizzas that will blow you away. Its temperatures exceed 800 degrees, so the crust cooks to crispy perfection.

Who wants to be confined to a dark basement or bedroom when it's a gorgeous day outside? Call your friends, ice the beer and start gathering ingredients for your favorite pizzas – all while enjoying your favorite summer sports on your big screen TV. Sounds like a little bit of man cave heaven to us.

For a big return on investment, consider adding a deck for your new outdoor man cave. A wooden deck with a cost around $10,000 brings with it a 75 percent return on investment on average. In certain regions, such as the West, decking ROI can reach as high as 95 percent.

Loan Depot can help make your perfect outdoor man cave a reality with a competitively priced, fixed-rate personal loan. Call us now to find out how loanDepot can help you outfit your space to the fullest with a loan up to $35,000. You'll never want to stay in again.

Call today for more information.

Published June 14, 2016

RELATED TOPICS
5 ways to save on natural resources this summer
7 tips to get ready for your summer move
Upgrade your outdoor space with a fireplace or fire pit
What goals can you achieve with a refinance?
Paying points: What are they and are they right for me?