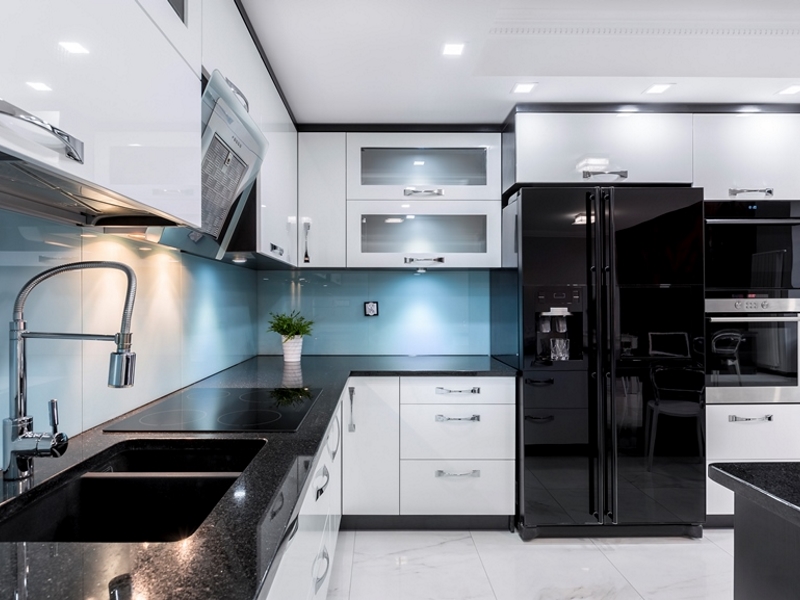 Home technology continues to permeate our daily living. It's everywhere, making our lives more efficient and convenient in ways we didn't even realize needed a boost – from apps to automation. Even the latest kitchen trends and gadgets are getting in on consumers' appetite for technology.
With the right financing, the kitchen of your dreams can be cooked up with just a few hot new appliances. In fact, modernization can be done without major construction. And a personal loan from loanDepot can get you shopping sooner than you think. Call today for more information.
In the meantime, check out some of the tastiest high-tech appliances to turn your kitchen into a modern marvel.
Marvel Elise 3-door counter-depth refrigerator in matte black
2017's biggest appliance trend has been matte black, which might replace stainless steel soon as the finish of choice. This tech-savvy refrigerator comes in this hot hue, and it includes features like twelve temperature settings and a transitional LED lighting scheme.
Instant Pot Ultra
Rethink the way you make dinner with this multi-use appliance. The Instant Pot Ultra can act as a pressure cooker, slow cooker, rice cooker and sous-vide cooker, all in the space of a single pot. Its removable stainless-steel bowl insert also allows you to brown and sauté foods. So many uses, so little time
KitchenAid Artisan Mini mixer
If you love the idea of a standing mixer, but don't bake enough to justify the expense, consider this smaller-sized alternative. While it looks just like the classic KitchenAid mixer (and boasts a rainbow of color choices), the KitchenAid Artisan Mini is 20-percent smaller, 25-percent lighter, and uses a 3.5-quart bowl.
Breville Smart Scoop ice cream compressor
Upgrade your summer with this impressive machine that churns out a range of different frozen desserts – from gelato to molded ice cream cakes – in under an hour. While the Breville Smart Scoop is an investment, it's a must for those who take their ice cream seriously.
BUNN Velocity Brew 10-cup coffee maker
You'll breeze through your morning routine thanks to this novel BUNN brewer, which makes a pot of coffee in about three minutes or less. It's all thanks to the internal tank that keeps water heated to a brew-ready 200 degrees. But don't worry: The "vacation switch" allows you to shut off the tank to conserve energy.
Bella high-power juicer
Enjoy a healthy beverage at a moment's notice with this popular budget-friendly juicer from Bella. Its powerful 1000-watt motor extracts juice from fruits and vegetables, while the design allows for relatively easy cleaning.
Appliances can make a kitchen feel new without major construction. A personal loan from loanDepot can get you started. Talk to a licensed lending officer today for more information.

Published July 21, 2017
RELATED TOPICS
Keep your pool in order
Energy-saving ideas from around the world
Why Boomers are the new equity kings
How an HOA can affect your home loan