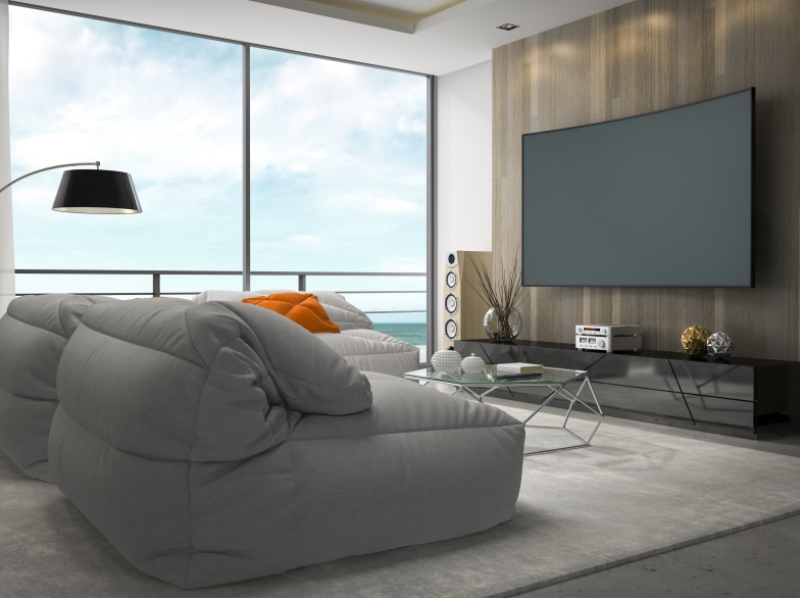 It's dazzling to walk into an electronics store to see today's TVs. There are no shortage of options. Although it does seem like "smaller" as a choice is becoming a thing of the past. After all, if we want to watch something on a small screen, we usually have our laptop or tablet at arm's reach. The actual TVs, however, tend to come in three sizes: big, bigger and biggest. And when comparing side by side, even the larger models look small compared to the largest.
It's no wonder our minds say, "Go with the big one!" But before you make that decision, remind yourself to think logistically. Do you have a place to actually put that TV? Remember all those custom-made entertainment centers from about a decade ago? They're now obsolete and often need to been torn out because they're monopolizing a wall but can no longer accommodate the size of the equipment they're meant to hold.
So if that 85-inch TV is catching your eye this year, it may be wise to scout its location first.
A personal loan from loanDepot can help finance your new toy and ready a room to accommodate it. Speak with a Licensed Lending Officer today for more information.
Today's TVs offer 'more' of everything
It's fantastic to imagine all that you can do and experience with a modern TV. If you haven't purchased one in the last few years, you'll find some exciting opportunities available to you. Many of these new TVs offer stunning displays. Most also have incredible audio and visuals and have gone one step further to offer connectivity. You can seamlessly stream Netflix or YouTube or pull up files from your laptop.
Before you buy your next entertainment system, there are a few things to keep in mind.
Size Matters
One of the biggest hurdles for TV buyers today is ensuring their new TV has a secure location to sit in that provides fantastic viewing. That old TV stand from four or five years ago is no longer big enough to hold the 60- to 85-inch TV you're thinking about purchasing. What's more, it's not simple to install a large TV like this on an open wall – do you really have wall space that's large enough to accommodate it?
Who has 90 or more inches of open wall space, though? If you do have a wall large enough that's not broken up by doors, windows or a built-in entertainment center, is it opposite the focal-point of the room, like the fireplace? If that's the case, would you be putting your back to the room opening or fireplace to watch TV? That seems awkward.
Shape matters, too
Another key concern is the actual shape of the TV. Some of the newest models are curved. The slight bend in the display provides for enhanced viewing, but, if you are not careful when placing these TVs, they can become distorted and hard to view from certain angles. The industry consensus is that bigger works better for these units too. The bigger the screen, the larger the "sweet spot," which allows for everyone viewing it to get the "immersion" experience. This isn't possible with a smaller screen. Additionally, the TVs can look awkward when mounted, since they come out from the wall several inches.
Speaking of wall mounting …
One of the most common options for installing larger TVs is to skip the stand altogether and install them directly on a. This can work in some situations but again, the size can cause issues. First, determine the layout of your living room with the new TV. Where will your couch go if the TV is on that wall? Next, think about studs and security. You'll need a specialized mount to hold the TV based on its size as well as on the wall. Mounting an 80-inch TV to drywall isn't going to work. The best option in this case, then, is to hire a professional to install them. It's the best way to minimize the risk of that TV falling.
Don't forget the sound
As you consider the layout of your new living room and the addition of your new TV, don't forget about the sound component. For those who want a basic level of control and "good enough" quality sound bars can do a good option. For those looking for incredible, theater-like sound, invest in a modern, custom-installed sound system.
The good news is these TVs and sound systems will surely make your home a high-tech mecca. With every new TV tech breakthrough, watching TV at home comes closer to providing the full-sensory experience of a theater for a much more affordable price.
If it's time to upgrade your TV and sound system, a personal loan from loanDepot can get started. Speak with a Licensed Lending Officer to get started today.
Published Nov. 15, 2017
RELATED TOPICS
Black Friday predictions and trends
A toast to the host – holiday home makeovers
Is 'turf' the new money-saving landscape option?
Know your rights as a borrower