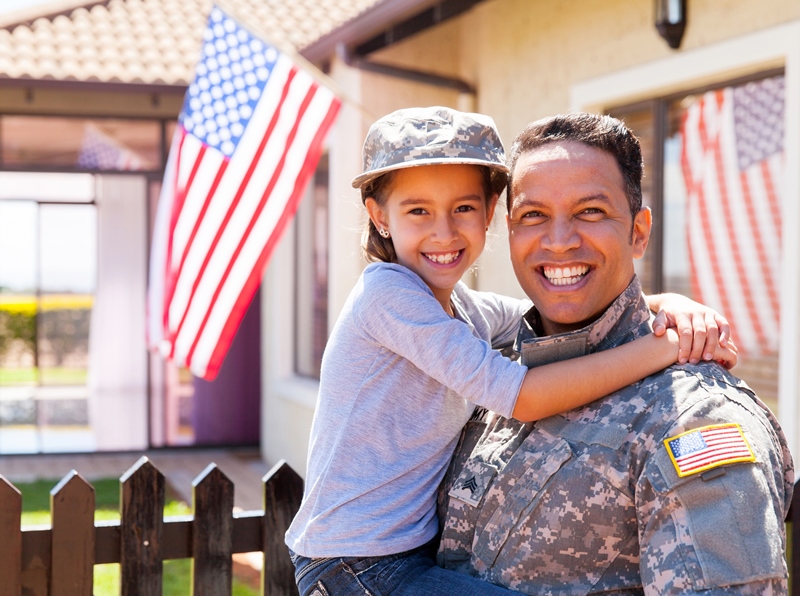 We do many VA-Guaranteed Home Loans here at loanDepot. Here are answers to the most frequently asked questions that we get about these special loans from the borrowers we serve.
What is a VA loan? A VA loan is a home purchase or refinance loan guaranteed by the U.S. Department of Veteran Affairs (VA). The program was created with the G.I. Bill of 1944 and made available to most U.S. Veterans, active duty military and other eligible servicemembers. The VA doesn't actually loan money, but instead guarantees a portion of the funds to lenders in case the borrower defaults on the loan. VA loans offer attractive terms such as no- or low-down payment options, no mortgage insurance requirements, no penalty fees if you pay the loan off early and some of the lowest interest rates available. You can use our VA loan calculator to estimate your monthly payments
Am I eligible for a VA home loan? Active duty servicemembers, honorably discharged veterans, current or former National Guard or Reserve members and eligible surviving spouses may apply for a VA home loan. Certain U.S. citizens who served in the armed forces of a government allied with the United States in World War II and individuals with service as members in certain organizations, such as Public Health Service officers, cadets at the U.S. Military, Air Force or Coast Guard Academy, midshipmen at the U.S. Naval Academy and officers at the National Oceanic & Atmospheric Administration may also apply for eligibility. You must have satisfactory credit, sufficient income, and a valid Certificate of Eligibility (COE) must be obtained from the VA. For more information on whether you meet the requirements, visit VA Certificate of Eligibility.
What kind of house can I buy with a VA loan? A VA loan can be used to buy a single family home, a condominium unit in a VA-approved project, a new-construction home, simultaneously purchase and improve a home, a manufactured home, a duplex, triplex or four-unit property. Options to refinance an existing VA-guaranteed or non-VA loan are also available.
How much can I borrow with a VA loan? The VA does not have a maximum loan amount however a qualified Veteran with full entitlement may be able to borrow up to the full reasonable value of a property or the sales price whichever is less. The Federal Housing Finance Agency has also set loan limitations that must be followed. These loan limits vary by county since the value of a house depends in part on its location. The VA will also allow you to finance the VA Funding Fee and energy efficient improvements up to $6,000 if any, into the total loan amount.
Can I get cash out through a VA refinance? A VA cash-out refinance loan refinances the existing mortgage lien and the loan proceeds beyond that amount needed to pay of the lien(s) may be taken as cash by the Veteran of any purpose.
What is the VA Funding Fee? Most Veterans must pay the Funding Fee for using the VA Home Loan Guaranty benefit. The funding fee is a percentage of the loan amount which varies based on the type of loan and your military category, if you are a first-time or subsequent loan user, and whether you make a down payment. If you are a Veteran receiving service-connected disability you would be exempt from this fee.
Is the surviving spouse or children of a deceased veteran eligible for a VA home loan? The surviving spouse of a Veteran may apply for home loan eligibility however he/she must meet additional VA requirements. Children of a Veteran are not eligible.
I already have a VA loan. Can I get another? If you currently have a VA loan using your entitlement, you can have previously-used entitlement "restored" to purchase another home only if the property purchased with the prior VA loan has been sold and the loan is paid in full. Another option is that if another qualified Veteran agrees to assume the VA loan and substitute his or her entitlement for the same amount of entitlement originally used by the Veteran seller.
Special restoration options are available in refinancing situations where a prior VA loan will be paid in full and you have made an application to refinance the VA loan on the same property. There is also a one-time restoration of entitlement that you can apply for if you have paid your prior VA loan in full but you plan to keep that property. A one-time restoration of entitlement may be used to purchase a different property.
Can I get a VA loan to buy a vacation or investment property? Generally no. The VA will only guarantee loans on a primary residence. The restoration of entitlement rules as mentioned above apply.
I really would like to refinance to lower my interest rate and monthly payment, what are my options? The Interest Rate Reduction Refinance Loan (IRRRL) allows for eligible Veterans to reduce their interest rate and lower their mortgage payment on already existing VA-guaranteed loans. The IRRRL does not require an appraisal or income verification, and only minimum documentation is needed. The only requirement is that at least six on-time mortgage payments have been made on the existing loan. IRRRLs are designed to lower your interest rate and modify the term or loan type (ARM to Fixed loan) of your current loan to more favorable terms.
What is entitlement? Entitlement is the amount a veteran may have available for a VA Guaranty on a loan. The maximum guaranty is determined by the location of the property and the entitlement the Veteran has available. A valid Certificate of Eligibility (COE) must be provided. An eligible veteran must still meet credit and income standards to qualify for a VA-guaranteed loan.
Does my VA entitlement guarantee that I will get a home loan? No. Lenders must comply with income and credit standards set by the VA. For more information in VA loan guidelines and restrictions, visit benefits.va.gov.
While the U.S. Department of Veteran Affairs provides certain lending guidelines for loans it guarantees, lenders generally have their internal requirements as well. loanDepot's team of licensed lending officers and loan processors specialize in VA loans are ready and willing to answer any other questions you may have.
For more information, speak with a Licensed Lending Officer at (888) 983-3240.
Updated: Dec. 21, 2017