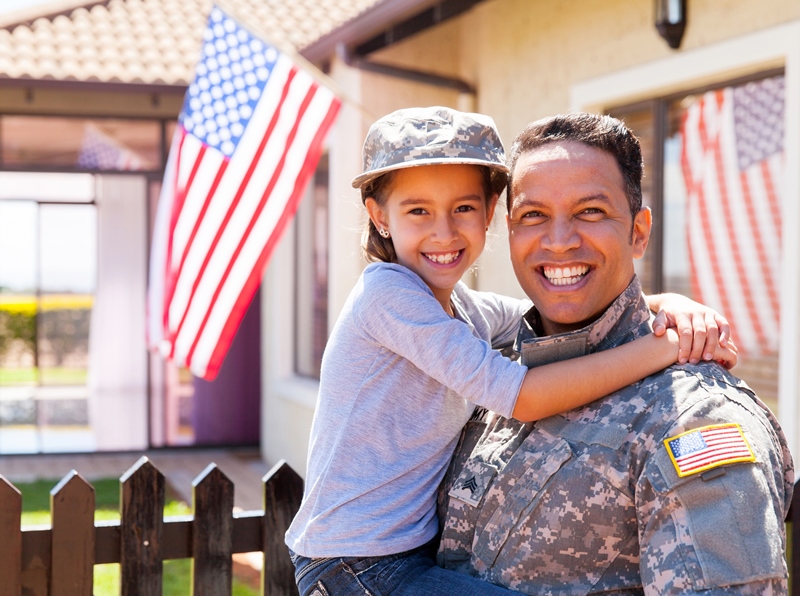 We do many VA home loans here at loanDepot. Here are answers to the most frequently asked questions that we get about these special loans from the borrowers we serve.
What is a VA loan? A VA loan is a home purchase or refinance loan backed by the U.S. Department of Veteran Affairs (VA). The program was created with the G.I. Bill of 1944 and the loans are available to U.S. veterans and active duty, reservist or retired military personnel. The VA doesn't actually loan money, but instead guarantees the funds to lenders in case the borrower defaults, similar to how FHA loans work. VA loans offer attractive terms and flexible underwriting requirements such as no- or low-down payment options, no mortgage insurance requirements, refinancing up to 100 percent of a home's value and some of the lowest interest rates available.
Am I eligible for a VA home loan? Most active service members and honorably discharged veterans who meet the minimum active duty requirements and have suitable credit and sufficient income are eligible for a VA home loan. Members of the National Guard, reservists, surviving spouses of veterans, cadets at the U.S. Military, Air Force or Coast Guard Academy, midshipmen at the U.S. Naval Academy and officers at the National Oceanic & Atmospheric Administration are also eligible. A valid Certificate of Eligibility (COE) must be obtained from the VA. For more information on whether you meet the requirements, visit benefits.va.gov.
What kind of house can I buy with a VA loan? A VA loan can be used to buy a detached house, condo, new-construction home, manufactured home (such as a mobile home), duplex, triplex or four-unit property or to refinance an existing loan for those types of properties.
How much can I borrow with a VA loan? The VA does not have a maximum loan amount, however loan guaranty is based off the county limits. If the purchase price is higher the borrower is subject to a down payment. Maximum loan amount includes 100% reasonable value of the home, plus the funding fee and energy efficient improvements up to $6,000. IRRRLs can also include allowable fees and charges.
Can I get cash out through a VA refinance? As long as you meet the debt-to-income ratio requirements and your home has the required amount of equity, then yes, you can pull cash out through a VA refinance.
Is the surviving spouse or children of a deceased veteran eligible for a VA home loan? The surviving spouse of a veteran killed in active duty or who died from a service-connected disability is eligible for a VA loan. However, children are not.
I already have a VA loan. Can I get another? If you currently have a VA loan, you can only take out a second VA loan if you will use it to pay off the current one, as in a refinance. If you are selling your home and the funds will be used to pay off your existing VA loan, then you can buy a new home with a VA loan. The VA will not back two loans to the same borrower simultaneously, except for under special circumstances, such as a relocation. If you're relocated by the military and you want to keep your first home, you can use a VA loan to finance your new primary residence.
A veteran can use their VA loan benefit as many times as they like to refinance their primary residence or buy a different home, except in cases of divorce when a property is awarded to the veteran's spouse. The entitlement cannot be restored unless the spouse refinances the property and/or pays off the VA loan in full or the ex-spouse is a veteran who substitutes their entitlement. If the loan is paid in full, entitlement may be restored. In the case of divorce, if the ex-spouse refinances the existing loan would be paid allowing restoration of the veteran's entitlement
Can I get a VA loan to buy a vacation or investment property? The VA will only guarantee loans on a primary residence. If the loan on your primary residence is paid in full, then you can take out a VA loan on a second home, as long as it becomes your primary residence. Then you can transform your old home into a vacation or investment property. If you have enough equity in your primary residence, you can also take advantage of a VA cash-out refinance to acquire funds to help buy another property.
I have a VA loan and I'm having financial troubles, what are my options? loanDepot offers VA Interest Rate Reduction Refinance Loans. These streamline refinance loans do not require an appraisal or income verification, and only minimum documentation is needed.
Does my VA entitlement guarantee that I will get a home loan? No. Lenders must comply with income and credit standards set by the VA. For more information in VA loan guidelines and restrictions, visit benefits.va.gov.
While the U.S. Department of Veteran Affairs provides certain lending guidelines for loans it backs, lenders may place addition requirements on top of those. loanDepot's team of licensed lending officers and loan processors specialize in VA loans are ready and willing to answer any other questions you may have.
For more information, speak with a Licensed Lending Officer at (888) 983-3240.
RELATED TOPICS
Loan program for veterans, active military
VA loans are better than conventional loans
The VA home loan 'entitlement' explained