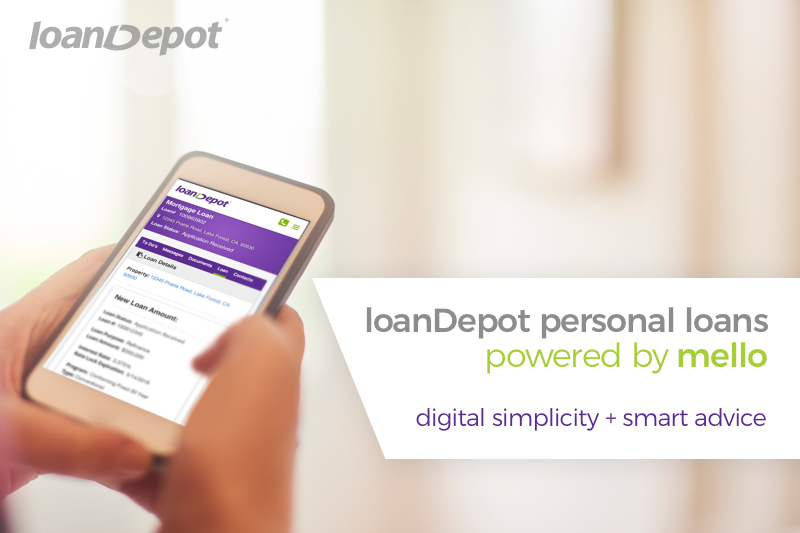 What's your first thought when you need to buy or invest in something? If it's "I can't quite make that happen right now," you're not alone. Millions of Americans are just a small sum away from investing in themselves, their futures, and ultimately their happiness.
Maybe you just need an extra $10,000 to position your business for greatness. Or perhaps it's finally time to convert that spare space into a proper office so you can make your spouse smile by getting your files off the kitchen counter.
A personal loan from loanDepot, powered by our proprietary mello™ technology, can help you get there.
Everyone is about to be something great, and we all spend our days thinking about and working toward this. That's why loanDepot named our loan technology mello, which means "about to be" in Greek. So whatever you're about to be—visionary entrepreneur or world's greatest spouse—mello gets you there fast and easy.
Since our inception 8 years ago, we've funded more than $135 billion in loans to help people buy homes, start businesses, make home improvements, restructure debt, pay for weddings, and much more. And the latest version of our mello technology makes it easier than ever to get your personal loan in just 72 hours or less:
Run your loan from application to funding from any device.

Automated approval, fraud, and identification engines for real-time loan decisions.

Direct-connect to income and asset accounts to eliminate the paper chase.

Immediate access to smart, licensed loan pros for advice whenever you need it.
No more waiting weeks and months for a personal loan. We've got 450+ of the nation's top technologists rethinking and improving your experience everyday from our mello Innovation Lab in Southern California.
The best part: our personal and home improvement loan offerings are about to be even better as the crew at our mello Lab adds new features. Stay tuned to the blog for big news from the Lab shortly.
And click here to get started with your personal loan today!