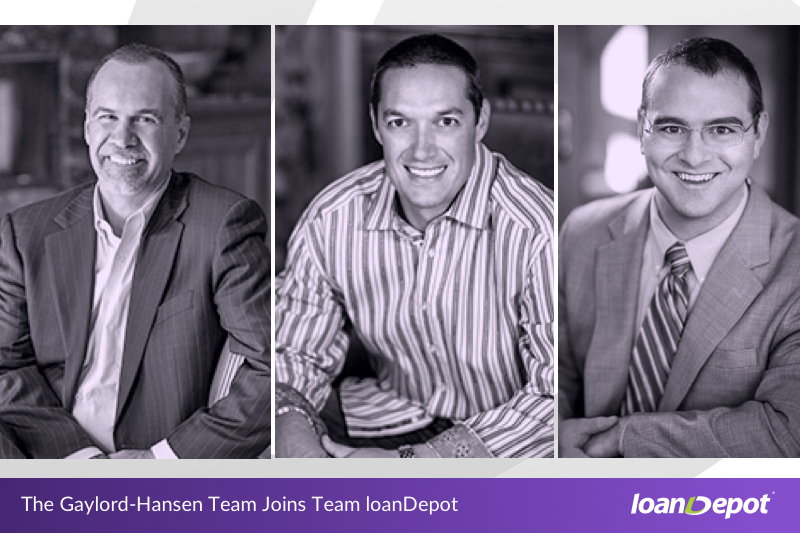 It's official: 2018 is already one for the record books. Less than 72 hours after the ball dropped in Times Square, we already have big news: Gaylord-Hansen, one of the country's highest performing lending teams, has joined the loanDepot family. The results-driven team was attracted to loanDepot thanks to the company's innovative, proprietary mello technology led by industry visionary, Founder and CEO Anthony Hsieh.
"When it comes to helping families buy their homes, our mission is to educate, communicate and execute," said Sam Hansen. "Bill, Danny and I believe that loanDepot, and mello specifically, will be instrumental in raising the bar and ensuring we accomplish our mission. We are confident that we will set a new standard from which everyone will measure themselves."
Bill Gaylord, Sam Hansen and Danny Horanyi are, individually, top performers whose exceptional work ethic and dedication to their customers is well known in the industry. Together, this dream team delivers, which is reflected in Danny's No. 5 top dollar volume standing in Scotsman Guide's Top Originators for 2016, closing 875 loans with volumes of $391,029,000. The team's numbers for 2017 are equally impressive, closing 715 units with volumes of $343,000,000.
"The Gaylord-Hansen team shares our ultimate vision," said Dan Hanson, Chief Retail Production Officer. "As customers change the way they search for homes, loanDepot is on the cutting edge, working with top local lending professionals like the Gaylord-Hansen team, to deliver the ultimate home buying experience."
Bill Gaylord is an enthusiastic and optimistic team lead whose competitive instinct and desire to win keeps his team on pace to maintain the highest levels. Sam Hansen is well known for his integrity, compassion and drive to deliver the best experience for his customers. Dedicated to delivering an optimal experience to every customer, Danny Horanyi is a true student of the mortgage industry, studying every possible option before making a recommendation. The powerhouse lending team holds numerous national records for loan closings and originations.
"Our team has always been driven by technology," added Danny Horanyi. "We believe it's the only means to stay organized enough to remain truly scalable. What loanDepot is doing, especially with mello, is truly next level."
Isn't time you joined a team that is shattering records and forever changing the lending industry? Email your resume to hello@loandepot.com to get started.