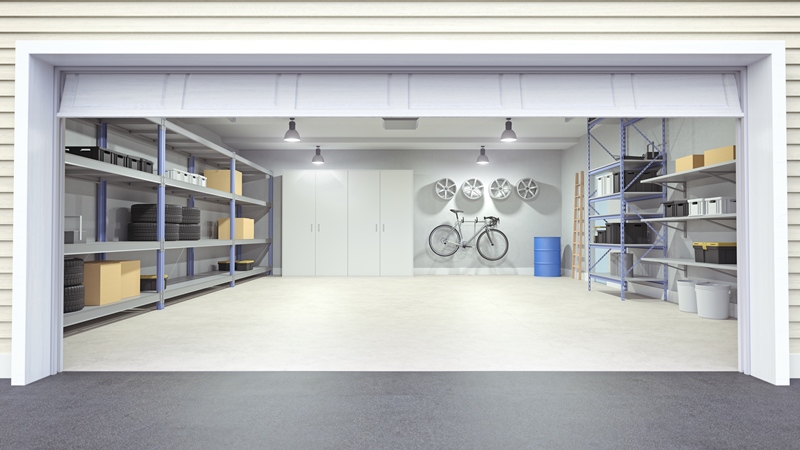 About 25 percent of Americans have a garage so crowded it can't fit a car, let alone accessible storage and an orderly workspace. If you're afraid one more storage box will garner you a nomination for the show "Hoarders," it's time for a space makeover.
Even if the plan isn't to store a vehicle, your garage doesn't need to remain a catchall for everything you can't fit elsewhere. The garage makeover spectrum is wide – from simply getting organized to transforming the space into a slick workshop, with finished floors and professional worktables and tool cabinets.
A personal loan from loanDepot can be just the seed money to get your garage in order. Speak with a licensed loan officer today to discuss your options. Call us today.
1. Clean it out
Start by removing everything from the garage. You'll probably find a lot of junk you have no use for but tossed in the garage "just in case." Determine what you can throw away, sell or donate and categorize the rest. Tools and work supplies already in the garage will stay in the garage. You might also need to store some "non-workshop" items such as bicycles, gardening gear and sports equipment. If you must share your workspace, make designated areas: one for your space, the other for household items.
2. Get (or make) a worktable
Think about what things you might build or repair in your workshop and how much usable room you'll have once it's done. If you're short on space, consider a flip-up or flip-down table. Many people prefer a worktable 33 to 36 inches high, but see what works best for you. The best place for your worktable is along a wall where the electrical outlets are. For a professionally mounted worktable, you can spend up to $1,000 depending on size, material and features. Pro tip: Commit to keeping the surface clean and uncluttered so you can easily tackle new projects without wading through a huge mess.
3. Consider storage
Storage will be essential if you are to keep your new workspace clean and organized. Prioritize tools and equipment you use most and keep them within reach. Smaller tools can hang on a pegboard or tool organizer. Larger, less-used equipment can go in a lockable cabinet; a good one can run $2,000 to $3,000, but it's an investment that can protect your most expensive equipment.
4. Don't skimp on lighting
You need to see what you're working on, and if you have only your overhead garage light, that won't likely be enough for any intricate work. One slip with a sharp tool can spell disaster, so make sure you can see what you're doing at all times. You can get florescent lights for $20 to $30 each. They are bright, cooler than incandescent lights and energy efficient, which can save you money on your power bills.
5. Upgrade the floor
You can leave the plain, concrete floor as is, but for an additional $80 to $100, you can paint it. You'll need to buy epoxy coating and painting supplies. Or put down interlocking floor tiles or garage flooring mats, which can help protect your feet and back when standing for long periods.
Your garage represents valuable real estate in your home. Don't let this space go to waste. Instead, convert an underused garage into a slick, clean workshop that will be the envy of the neighborhood. A personal loan from loanDepot can be the solution to get you started. Call now for more information.
Published on Jan. 9, 2017
RELATED TOPICS
Add value to your home with a new fireplace
Start 2017 on right track by paying off high-interest debt
8 things to know about a home before buying
Building the ultimate indoor man cave
Home renovations: to permit or not to permit