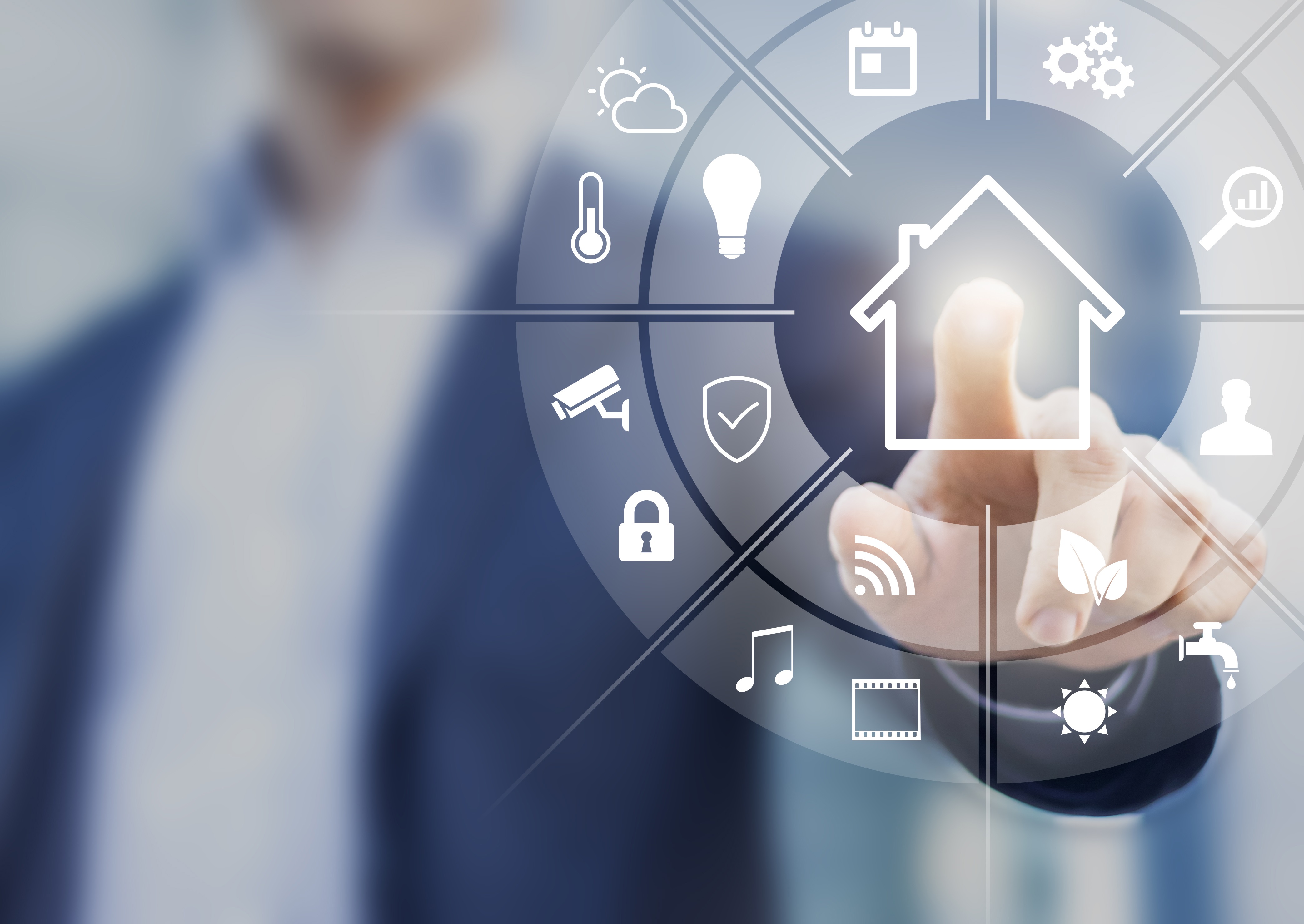 See who's at the door without getting up from your chair. Change the temperature in your living room from work, so it's cool and comfortable when you get home, even on the hottest days. Reprogram your sprinklers while you're on vacation in case the weather changes. Check the contents of your refrigerator from a grocery store aisle. Cue up your music library or order items for immediate delivery with a voice command.
These and other smart home features are no longer in the realm of science fiction, they are a reality in more and more homes and are now available so you can update and upgrade your own home. A personal loan can be the perfect solution for going full throttle with new technology and making your home as streamlined and efficient as possible. For more information, speak with a loanDepot licensed loan consultant today.
Lighten up and cool down
There are a number of accessories and systems on the market, each with a different set of abilities. On the entry-level end are wifi-enabled smart LED lightbulbs. For under $40, you can change the color and brightness of lights in your home from anywhere in the world using your Android or iPhone.
The Nest learning thermostat is easily the best-known home automation system. Over time, the thermostat learns your patterns, raising and lowering your home's temperature to fit your preferences. The makers say that, over time, it can cut down on your power bills and pay for itself.
Speak your mind
Amazon Echo is one of the newest options. Using voice commands, you can turn on music from services like Prime Music, Pandora and Spotify. Check the news without going to your computer. You can also work your other connected devices using Echo's voice commands, such as keeping a grocery list or ordering directly from Amazon Prime once you realize you're out of something.
Command central in your kitchen
Samsung debuted its "smart refrigerator" at the Consumer Electronics Show in Las Vegas. The four-door unit has a large touch-pad embedded in one of the doors that serves as a home computer, where you can order groceries, get news updates and even pull up recipes. An internal camera allows you to check the contents of the refrigerator from your smartphone from the grocery store.
Your electronic eyes and ears
Smart home security systems use video, audio and motion detection to see what is going on in your home. You can have alerts sent to your phone and can activate your system remotely. The system can also be used for your convenience and comfort while you are at home, such as acting as a permanently installed video baby monitor.
Cost control
Depending on the systems that you choose, smart home systems or home automation upgrades can cost anywhere from a couple of hundred to several thousand dollars.
There are a number of home automation updates that can save you substantial amounts of money. For instance, you can have blinds that automatically open during the sunniest parts of a winter day to cut heating costs. Or, your smart thermostat can use data from utility companies to cut down on electricity usage during the most costly hours. Some home insurance companies offer discounts to customers who have smart home monitoring systems installed. And, when you sell, it is possible that a home automation system can make your home more attractive to buyers.
Every family's home and finances are different; you will have to compute your own price projections to figure out which home automation systems are a good fit for you. In many cases, you can find that a system can pay for itself after a period of time, which can make it worthwhile to fund the system with a home equity loan.
Innovation is giving us more ways than ever to enjoy the spaces where we live. Look for the systems that suit you best and find a personal loan option to fund your smarter home.
Call today for more information.
Published June 29, 2018
RELATED TOPICS
Americans have regained almost full $7 trillion in housing wealth lost
Should you invest your equity in a second home?
Spruce up for spring - use a personal loan to get your house in order
Home equity: Get ready for your closed-end second mortgage